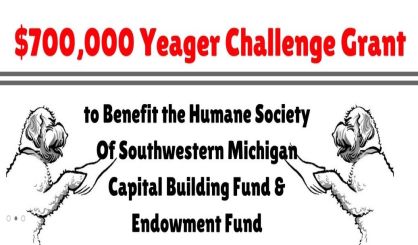 A new $700,000 challenge grant has been announced to help the Humane Society of Southwestern Michigan as it prepares to move into its new facility. Humane Society Director Jill Svoboda tells WSJM News the Yeager family, longtime supporters, will match donations, dollar for dollar, to both the organization's capital fund for the new shelter and its endowment.
"What it will mean is a speedy mortgage payoff for the building so we will own the building free and clear, and also it gives us an endowment fund to give the organization stability as a whole," Svoboda said.
Svoboda tells us once the Humane Society of Southwestern Michigan meets its goals, it will have amassed more than $1 million. She says you can help by going to its website or buying tickets to one of its events.