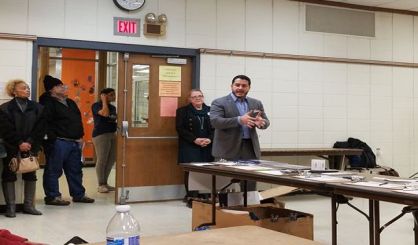 Democratic candidate for governor Abdul El-Sayed has had a chance to speak to voters in southwest Michigan. He led a town hall in Benton Harbor Tuesday, laying out a progressive agenda that includes single payer healthcare, a $15 an hour minimum wage, protecting the LGBTQ community, and shutting down Enbridge's pipeline in the Straits of Mackinac. He told WSJM News it's time for the power of people to guide state government.
"The fact that we've allowed corporations to take any power and that Democrats are playing into that ballgame, that to me is ridiculous," El-Sayed said. "It's a corruption of our values and we can't stand for it."
El-Sayed led the Detroit Health Department from 2015 to 2017. As a doctor with experience leading a government agency, he said he knows how to turn a bureaucracy around. Earlier in the day, El-Sayed turned in more than 24,000 signatures to the Michigan Secretary of State to qualify for the Democratic Primary election ballot. Also running in the Democratic primary for Michigan governor are Gretchen Whitmer, Shri Thanedar, Justin Giroux, and Bill Cobbs.