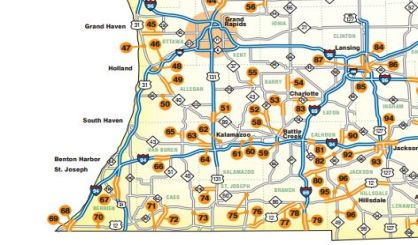 The Michigan Department of Transportation has released its 2018 construction map. Spokesperson Jeff Cranson tells WSJM News the map can help drivers plan their routes ahead of the busy construction season to avoid being stuck in work zones. He says the fiscal year 2018 capital highway program investment is more than $1.6 billion, which still isn't enough to address all of Michigan's road needs.
"Michigan has had funding challenges in transportation for a long, long time," Cranson said. "In 2015, a road funding package that the legislature passed and the governor signed did infuse some more money for roads, but a big chunk of that money doesn't begin to phase in until fiscal year 2019."
In Berrien County, MDOT has five I-94 bridge projects scheduled for this summer, along with some chip sealing on US-31 between Napier and M-139, and repairs to the US-12 bridge over the Galien River. In Van Buren County, eastbound I-94 between 56th Street and M-51 will be reconstructed. You can find the 2018 construction map right here.