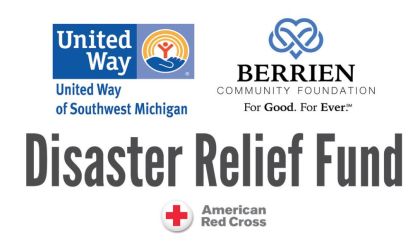 Southwest Michigan residents are proving to be caring when it comes to their neighbors. The United Way of Southwest Michigan tells WSJM News the disaster relief fund it set up last week to help out folks affected by floods this month has already raised more than $20,000. That's in just about five days. United Way's Anna Murphy tells WSJM News the money will be used for a variety of needs.
"Once the water recedes, there's homes that are still there," Murphy said. "There's going to be dirt, there's going to be people that need to get back into the swing of things, and with this flooding, people are possibly losing wages, and there are all sorts of impacts from this."
The disaster relief fund money will go to the American Red Cross of Southwest Michigan and all stay local. You can donate to it at the United Way of Southwest Michigan's website. You can also text message "UWSMRELIEF" to 51555. That will bring up a webpage where you can pick a donation amount.
Checks can be sent to the below address:
Disaster Relief Fund
c/o Berrien Community Foundation
2900 South State Street, Suite 2E
St Joseph, MI 49085