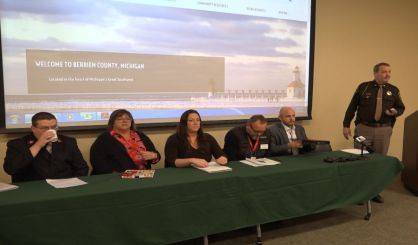 The Berrien County Sheriff's Department's initial estimate for flood damages is about $3.5 million, but the number will go up as some roads in Royalton Township still can't be accessed. Several agencies responding to floods gave the public an update Thursday. Anthony Meyaard with the Berrien County Equalization Department gave some numbers.
"Right now, we have about 306 properties that were touched," Meyaard said. "Of those 306, 94 are classified as just affected, 124 were classified as minor, 74 were classified as major, and six were classified as destroyed."
What's next for most affected individuals is home repairs. The Berrien County Health Department's Nicki Britten said that comes with new concerns.
"Items that have been in contact with flood water should be considered contaminated," Britten said. "As folks are cleaning up, it's important to use some protective gear such as rubber gloves, boots. In some instances, it might be approriate to wear a mask if there is suspicion of mold."
If there is mold, call a contractor. The sheriff's department's initial flood damage estimate is about $3.2 million, but that number will change. The Red Cross says about half of the people who were staying at its shelter in Berrien Springs have now left. It's prepared to continue offering shelters at a different location if need be. Anyone seeking help following this month's floods should call 211.