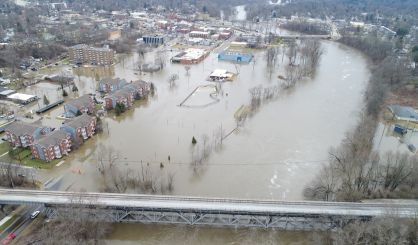 There has been some historic flooding in the Niles area this week, and Berrien Springs has been hard hit as well. Niles City Administrator Ric Huff tells WSJM News there are some things residents need to do to stay safe.
"It's really important for residents to stay out of and away from floodwaters," Huff said. "All of our city resources are being used to try to mitigate the damage to the best of our ability, but we keep getting pulled away from very important tasks to rescue people from flooded cars and to get people away from fast-moving waters in flood-prone areas."
The St. Joseph River in Niles is at an historic level, and is expected to crest at nearly 17 feet. That's six feet above flood level. Niles city crews are working to get people away from dangerous areas. Meanwhile, police in Berrien Springs on Wednesday morning evacuated the River Springs Estates trailer park and the Shamrock Park camping grounds when the dam had to be opened. Evacuees with no place to go are being sent to the Berrien County Youth Fairgrounds.
UPDATE:

The city of Niles put out the following statement Wednesday evening:

"The City of Niles continues to experience a major flooding event. City staff will be available 24 hours a day during this event and will be on site monitoring critical infrastructure. If you have an emergency please call 911.

Use extreme caution around floodwaters. Floodwaters conceal hazards and are often deep with swift currents. Floodwaters also contain contaminates which can be harmful to your health.

If you have flooded property use extreme caution around the property. Electrical circuits may still be energized and other hazards can develop during your absence from the property.

Anyone requiring emergency housing is encouraged to call the American Red Cross at 800-936-3705. The American Red Cross is working with the Niles City Fire Department and Niles City Police Department to place people in temporary emergency housing as needed.

The St. Joseph River is currently at 16.47 feet and is expected to crest at 16.8 feet later tonight or early tomorrow morning. The River isn't expected to recede to minor flood stage until Monday."
Pictured: The city of Niles on Wednesday.