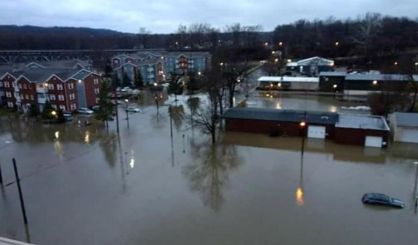 Flooding in Berrien County this week has been the worst in the Niles and Berrien Springs areas. The city of Niles put out word Wednesday morning the St. Joseph River level is poised to crest at 16.9 feet at approximately 7 a.m. Thursday. That would be an historic level beating out 15.1 feet in 1988. The St. Joseph River is considered to be at a flood level when it hits 11 feet. City crews have been doing welfare checks on residents and the Red Cross is working to set up emergency accommodations for anyone that has to leave their home due to flood waters.
Meanwhile, the Berrien Springs-Oronoko Police Department evacuated the River Springs Estates trailer park and the Shamrock Park camping grounds on Wednesday morning when the dam had to be opened to relieve water from Lake Chapin. Evacuees with no place to go are being sent to the Berrien County Youth Fairgrounds. Everyone is reminded to stay away from flooded areas and obey all flood barricades.
Photo: Niles, courtesy of WNDU.