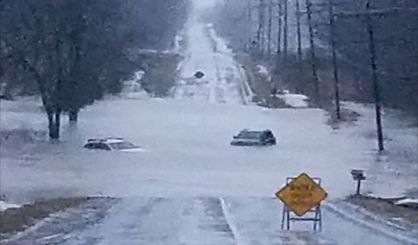 The Berrien County Road Department and the Van Buren County Road Commission are both dealing with a large number of roads that have been flooded over this week. Berrien County Road Department Director Jason Lathum tells WSJM News the crews are out and marking problem spots.
"We're looking for areas where there's water over the road and trying to get signs up, and if there's areas where the water's too high or if we're noticing some washouts, we're closing the roads," Lathum said.
The road department put out word Tuesday afternoon many spots are underwater or have been washed away. Lathum tells us south county is a bit worse than northern Berrien County and crews will apply repair materials where possible.
"Right now, it's the quick cold patch, and we hope we don't get another freeze thaw," Lathum said. "Sometimes, those only last a week."
The road department advises drivers to watch out for warning signs or barricades. You never know how deep the hole is underneath that water. Watch the road department's Facebook page to stay in the loop.
Pictured: Galien and Buchanan Road. Photo from the road department's Facebook page.