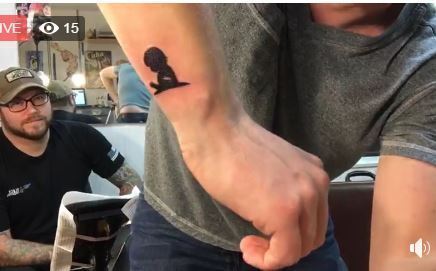 More than $38,000 has been raised for St. Jude Children's Research Hospital by 97-5 Y Country radio with its 2018 radio-thon. For 12 years, Y Country staff have held the fundraiser, asking people to donate to St. Jude Children's Hospital. Morning host Matt Malone tells WSJM News this was an excellent year.
"The outpouring of support was absolutely incredible," Malone said. "The fact that we had all of our Y Country family show up was amazing."
Malone says hearing the stories of cancer survivors is always emotional for each host on the radio-thon. He proved his dedication to the charity on Monday by getting a St. Jude tattoo. That was in response to a bet he made with listeners this year, saying he'd get inked for St. Jude if the radio-thon raised at least $10,000 on its first day. As of Monday, there were still donations for the fundraiser coming in, even though the radio-thon ended Friday. You can still donate at 975YCountry.com.