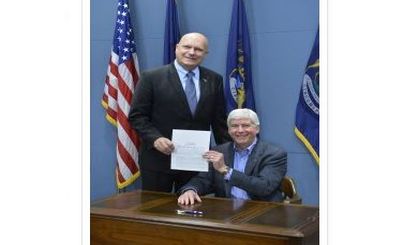 Experience. That's what state Representative Dave Pagel says he has heading into the race for the 21st District Michigan Senate seat. He has announced he's running to replace the term-limited state Senator John Proos. Pagel tells WSJM News he wants to better fund public education. He's been concerned about some legislative action on that front.
"Things going on that have been a little troubling," Pagel said. "How we've handled the budget with the School Aid Fund and we've gone kind of counter to the purpose and intent of Proposal Athe way we've siphoned money away from public schools."
Pagel, a Berrien Springs apple grower, tells us he also wants to push ag interests.
"I think a farmer in the Senate is a positive thing, a good voice for the family fruit farms and vegetable farms in our area," Pagel said.
Pagel says auto insurance reform remains another big priority. He's running against state Representative Kim LaSata in the August Republican primary for the Senate. Pagel tells us Al Pscholka's decision not to run did affect his own decision. He adds state senator John Proos leaves tough shoes to fill.