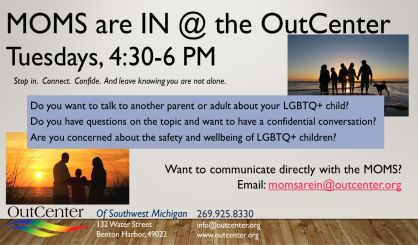 The OutCenter in Benton Harbor is now offering the families of LGBT individuals in southwest Michigan a place to gather and consult with the help of some moms. Moms are IN at the OutCenter co-founder Kathryn McBride tells WSJM News the group got started when some moms looking for support independently contacted the OutCenter. She says they got the idea to offer other parents of LGBT people a place to talk.
"Some people might be struggling with the information," McBride said. "Others might be completely accepting, but just need some advice."
The Moms are IN at the OutCenter each Tuesday from 4:30 to 6 p.m. Anyone can stop in to talk free and confidentially. There's also a Moms are OUT program in which the moms hold fundraisers around the community for the OutCenter. Anyone can follow them on Facebook to stay on top of upcoming events.