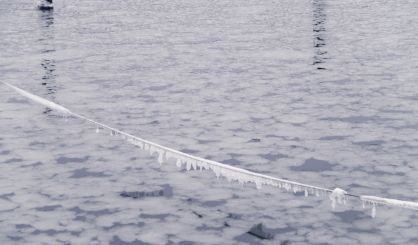 The Michigan Department of Natural Resources is reminding anglers that mandatory ice shanty removal dates are approaching. For counties in the southern Lower Peninsula, shanties must be removed from the ice by midnight Thursday, March 1. For all Upper Peninsula counties, shanties must be removed by midnight Saturday, March 31. Meanwhile, Coast Guard Lieutenant Jodie Knox tells Michigan Nes Network it has been a precarious season for those going out on the ice.
"Over this winter season, we've had 25 cases that are related to ice and warm temperatures," Knox said. "That's a lot in comparison to years past. Five people lost their lives in this season so far, and 15 of those 25 cases were ATVs, snowmobiles, or just people walking on the ice and breaking through it."
Knox says this week's warm up will make ice conditions increasingly dangerous. She advises anyone heading out on the ice to carry a sharp object — like a screwdriver — in case they fall in. That might allow you to pierce the ice and be able to get out of the water.