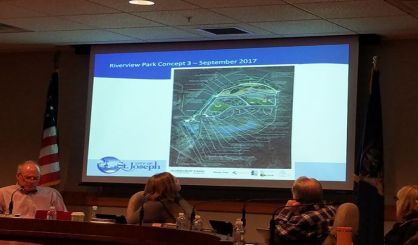 The city of St. Joseph is closer to having a parks master plan. Last year, a series of public meetings took the suggestions of residents for Dickinson Park, Riverview Park, and Whirlpool Centennial Park. At Monday's city commission meeting, St. Joe Deputy Public Works Director Greg Grothous laid out the long-term visions for those parks based off the meetings. He tells WSJM News the first priority for commissioners is getting to work on features at Whirlpool Centennial.
"Some additional sidewalks with outdoor showers so people can rinse the sand off coming from the beach before they enter the fountain so they don't use the fountain as that rinse-off," Grothous. "Sand is a big issue that we deal with operationally with the fountain."
Grothous says another immediate priority is replacing the aging Briarwood pavilion at Riverview Park. Since his office can only pursue two or three grants at a time, Riverview and Whirlpool Centennial are tops. Other long-term priorities include a playground at Dickinson Park and disk golf at Riverview. A public hearing will be held next month so the grant process can begin.