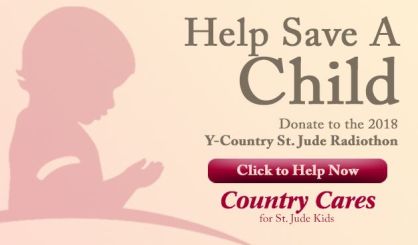 Starting Thursday and running through the end of Friday is the 12th annual 97.5 Y Country "St. Jude Children's Research Hospital Country Cares Radiothon." Y Country Morning Host Matt Malone tells us the event raises money for St. Jude Children's Hospital, a place that treats kids with cancer. There's something else that makes St. Jude special.
"The great thing about St. Jude is the fact that no bill goes to the families," Malone said. "Everything that happens, from when the children are being taken care of to the hotel rooms to the food, it's all funded by donations. That's why it's so important to get people to donate."
The Y Country crew will be at the Shadowland Pavilion 6 a.m. to 7 p.m. Thursday and Friday taking donations. You can help out by stopping by, or going to 975YCountry.com.