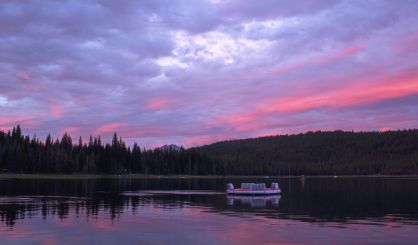 The Michigan Department of Natural Resources stocked the state's inland lakes with more than 830,000 fish in the fall of 2017. The numbers were released on Monday, and DNR Fish Production Manager Ed Eisch tells WSJM News the species dropped into Michigan lakes include trout, salmon, and walleye. He notes the state has been stocking lakes with fish since the late 1800s.
"Certainly, there are waters within the state that are entirely self-sustaining that we don't need to stock, but there are also many waters that do rely on fish stocked by the Michigan Department of Natural Resources, so you could very definitively say that without our fish production program fishing would look very different in Michigan," Eisch.
The DNR's fish hatcheries include the Wolf Lake State Fish Hatchery in Mattawan, which is the supplier with a large number of steelhead. Statewide, Eisch estimates the DNR breeds about 20 to 30 million fish each year.