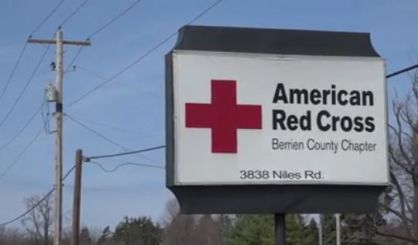 The Red Cross is hoping more people will step forward to make a blood donation after recent severe weather caused a major drop. Spokesperson Todd Kulman tells WSJM News the situation is dire.
"We've certainly seen our share of severe weather," Kulman said. "It's had a pretty big impact so far on blood donations this year with already more than 150 blood drives forced to cancel across the country, and that's caused more tan 5,500 blood and platelet donations to go uncollected."
Kulman tells us donations are going straight to hospitals as they come in. In particular, the Red Cross needs platelets, and blood of type O negative and B negative. The Red Cross has scheduled several blood drives for Berrien and Van Buren counties this month. We have a list of them below. Otherwise, just get the Red Cross blood app or call them to schedule an appointment.
Southwest Michigan blood drives this month:
Berrien County —
Saint Joseph
1/10/2018: 11 a.m. – 4:45 p.m., American Red Cross, 3838 Niles Road
1/22/2018: 9 a.m. – 2:45 p.m., Lake MI Catholic High School, 915 Pleasant
Van Buren County —
Bangor
1/9/2018: 12 p.m. – 5:45 p.m., Simpson United Methodist Church, 507 Joy St
South Haven
1/11/2018: 12 p.m. – 5:45 p.m., Bethel Baptist Church, 6701 Blue Star Highway South
Decatur
1/12/2018: 11:30 a.m. – 5:15 p.m., Decatur High School, 110 Cedar
Lawton
1/15/2018: 1 p.m. – 6:45 p.m., Evangelical Mennonite Church, 425 Nursery Street
South Haven
1/16/2018: 12 p.m. – 5:45 p.m., Moose Lodge 697, 1025 Wells St
Hartford
1/26/2018: 12 p.m. – 5:45 p.m., Federated Church, 65418 Red Arrow Hwy
Bloomingdale
1/30/2018: 8 a.m. – 1:45 p.m., Bloomingdale High School, 311 E. Willow Street