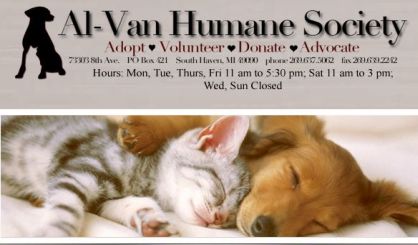 On sale now are tickets to one of the biggest fundraisers of the year for the Al-Van Humane Society in South Haven. The organization's Jennifer Nuernberg tells WSJM News the bi-annual Fur Ball fundraiser will be in late February, but you'll want to reserve your spot now. They'll be pitting some top chefs from South Haven against each other in a competition.
"We've chosen a Top Chef theme, and so we'll have four local chefs from restaurants here in South Haven competing for that title," Nuernberg said. "Each chef will prepare a plate, so there will be four small plates for everyone to enjoy. There will be live music and live and silent auction items. It should be a great night."
The chefs taking part in the Top Chef challenge are from Taste, Sophie's Steakhouse, Clementine's, and Kitchen 527. They'll have an auction with items donated by local businesses, and Nuernberg tells us there will be some big surprises there. You can get tickets to the Fur Ball at the Al-Van Humane Society shelter or resale shop. Just give them a call. You can find out more about the event right here.