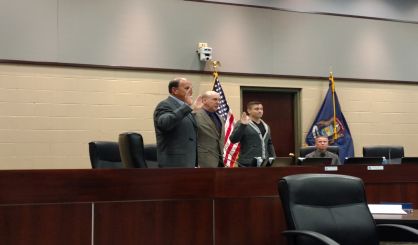 A new mayor and three new council members sworn in at Tuesday night's South Haven City Council meeting. Mayor Scott Smith, Councilmen Joe Reeser, Chris Campbell, and George Sleeper. City Manager Brian Dissette told WSJM News there is a lot of training that new council members must go through.
"The Michigan Municipal Leave, the MML staff will be coming over from the Lansing area, teaching them about core city services, and then what their legal responsibilities are as city officials."
Dissette said it takes around six months for new council members to get fully acclimated. Also Tuesday night, Clark Gruber was elected mayor pro-tem by the council.