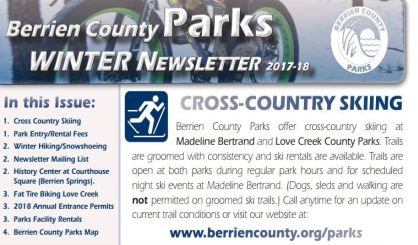 Lots of snow has meant some pretty good business for some Berrien County parks this week. Love Creek County Park Manager Kip Miller tells us the cross-country skiing action at Love Creek is quite popular this time of year.
"It's popular enough that we draw folks from Indianapolis, Chicago, even from as far away as southern Wisconsin if there's no snow over that way," Miller said.
Love Creek has about six miles of cross-country skiing trails, along with fat bike trails. Madeline Bertrand County Park is also popular for the skiing.
"Each park offers something just a little bit different, but both are very popular when we have snow on the ground," Miller said.
Miller tells us they can wind up with hundreds of people at Love Creek County Park when there's a lot of snow. If the weather was a little less cold right now, he thinks they'd have even more skiers. The weekend is expected to pick up at both Madeline Bertrand and Love Creek County Parks. You can find Love Creek County Park's website right here.