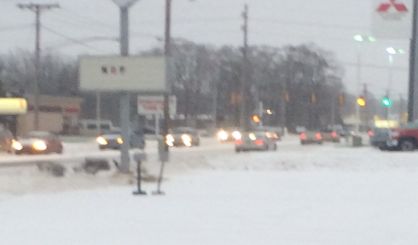 The National Weather Service is warning of more snow to come this afternoon and evening. It has issued the following alert:
Heavy lake effect snow occurring. Plan on difficult travel conditions. Additional snow accumulations of 3 to 6 inches are expected in La Porte and St. Joseph counties in Indiana and Berrien County in Michigan.
The warning is in effect through 11 p.m. tonight.Winds gusting as high as 35 mph will cause areas of blowing and drifting snow making travel difficult or impossible, especially on east west roads. Snowfall rates of 1 to 2 inches per hour are expected. Interstates 94, 80 and 90 will be impacted with near zero visibilities at times. These conditions will increase the risk for chain reaction accidents.
A Winter Storm Warning for heavy lake effect snow means significant amounts of lake effect snow are forecast that will make travel very hazardous or impossible. If you must travel, keep an extra flashlight, food, and water in your vehicle in case of an emergency. The latest road conditions for the state you are calling from can be obtained by calling 5 1 1.