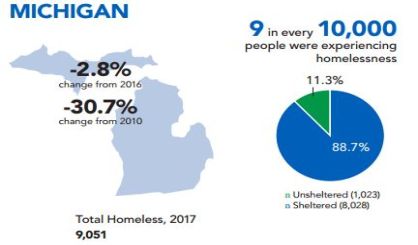 Homelessness in Michigan is drastically down since 2010. U.S. Department of Housing and Urban Development Deputy Regional Administrator James Cunningham tells WSJM News homelessness in Michigan has dropped 2.9% since last year and 30% since 2010. One reason is HUD's relatively recent strategy of working with local non-profits to identify folks in need of housing and getting them into housing quickly.
"We make it so that once we get them into housing, that is is permanent housing and the incidents of homelessness are occurring less," Cunningham said, "They're not happening as much. We're not having people go in and out of homelessness. Once we get them into housing, we're keeping them there."
Cunningham says HUD has networks of non-profits all over Michigan that work to identify folks in need of housing. He says continued work needs to be done as HUD tries to further reduce the number of homeless veterans.