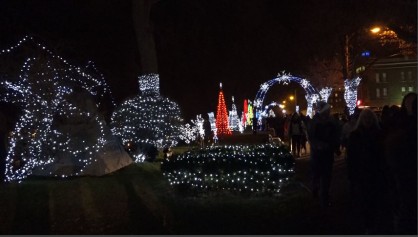 Tonight is the night. They'll light up the bluff starting at 6 p.m. You'll hear the St. Joseph High School Choir -sing for about a half hour, and then the city says one million lights will be flicked on for the winter. The downtown event has been a tradition for 11 years now. After the lighting of the bluff, St. Joe Today's Amy Zapal tells us they'll have live mannequins downtown.
"We've got almost 40 stores, storefronts and windows where the windows will come to life with live mannequins," Zapal said. "The theme this year is literature, and so we'll have everything from Willy Wonka to Alice in Wonderland to who knows what."
At a meeting this week, the city commission saluted the high school choir and its director, along with the city parks department, for helping make Light Up the Bluff take place. It takes city staff about six weeks to get everything in order.