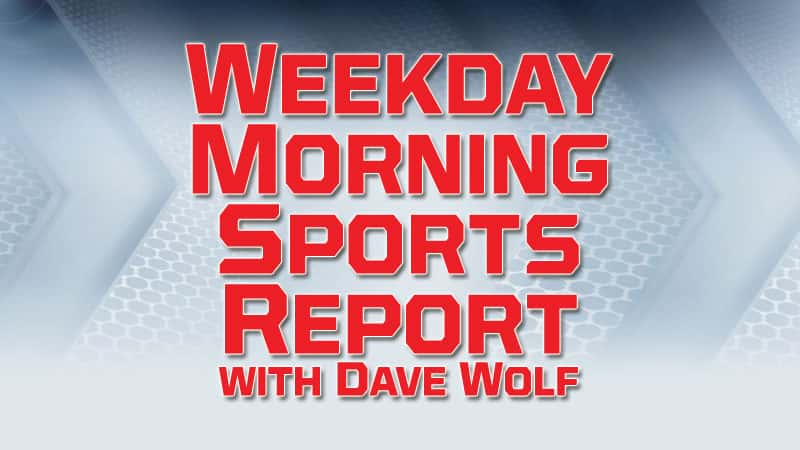 95.7 & 1400 WSJM Sports     @wsjmsports     wsjmsports.com     Wednesday, November 22, 2017
NCAA Basketball – Men's
Last Night
(13) Notre Dame 92, LSU 53
Michigan 102, Chaminade 64
(13) Notre Dame 92, LSU 53 – No. 13 Notre Dame drubs LSU 92-53 to reach Maui title game
T.J. Gibbs scored 26 points, Matt Farrell added 17 and Notre Dame dominated LSU 92-53 on Tuesday night to reach the Maui Invitational championship game. The Irish (5-0) expectedly breezed through their opener against Division II Chaminade did the same thing to LSU in their first game against a power program this season. Notre Dame shot well, shut the Tigers down on defense and were in control from the opening tip in a superb all-around game.  Bonzie Colson had 12 points and 11 rebounds for the Irish, who shot 52 percent and hit 15 of 32 from 3-point range.  LSU (3-1) lost starting guard Brandon Sampson to an ankle injury in the game's opening minute and struggled without one of its top defensive players. Up next for the Irish is a top-of-the-marquee title game against No. 6 Wichita State on Wednesday night.
Michigan 102, Chaminade 64 – Michigan rolls over Chaminade 102-64 at Maui Invitational
Charles Matthews had 22 points and 10 rebounds, Muhammad-Ali Abdur-Rahkman scored 17 points and Michigan cruised to a 102-64 victory over Chaminade in the Maui Invitational on Tuesday.  Michigan (4-1) suffered a tough-to-take loss after playing LSU close in its opener. The Wolverines didn't have to worry about closing the deal against the Division II Silverswords (2-2), dominating at both ends from the start. Michigan shot 65 percent and made 15 of 28 from 3-point range to move on to face VCU in the Maui fifth-place game on Wednesday. Braden Koelliker had 15 points to lead Chaminade, which went 5 for 22 from 3-point range to quash any chance of an upset.
Tonight
Michigan vs. VCU, 5:00 p.m.       at Maui Invitational (5th place Game)       95.7 & 1400 WSJM Sports 4:30 p.m.
Central Michigan vs. Sam Houston State, 6:30 p.m.  at Great Alaska Shootout
(13) Notre Dame at (6) Wichita State, 10:30 p.m.     at Maui Invitational (Championship Game)
NCAA Basketball – Cardinals decry NCAA penalties
Louisville says in an appeal that the NCAA's Committee on Infractions imposed "grossly excessive" penalties in ordering the vacation of its 2013 men's basketball championship and tournament revenue for a sex scandal.  The NCAA in June placed Louisville on four years' probation and ordered that it vacate up to 123 victories, including the 2013 title and 2012 Final Four appearance. Its decision followed an investigation into an escort's book allegations that former Cardinals staffer Andre McGee hired her and other dancers for sex parties with players and recruits from 2010-14. Louisville's response to the Infractions Appeal Committee called the COI's penalties "unfair" for seeking to wipe away players' careers and vacating victories "because of the participation of a handful of student-athletes who did little wrong."
NBA – National Basketball Association
Last Night
Los Angeles Lakers 103, Chicago Bulls 94
Lakers 103, Bulls 94 – Lakers rally from 19-point deficit to beat Bulls 103-94
Kyle Kuzma had 22 points, Kentavious Caldwell-Pope scored 11 of his 21 in the fourth quarter and the Los Angeles Lakers rallied from a 19-point deficit in the second half for a 103-94 victory over the Chicago Bulls on Tuesday night. Brandon Ingram had 17 points, five rebounds and five assists as the Lakers won consecutive games for the second time this season. Los Angeles had a miserable first half and trailed 61-42 early in the second, but put together a 38-19 run. Caldwell-Pope's layup with 3:08 to play gave the Lakers their first lead since the first quarter.  Denzel Valentine scored 17 points and Antonio Blakeney added 15, all in the first half, for the Bulls, who dropped to 3-12 with their seventh loss in eight games.
Tonight
Chicago Bulls at Utah Jazz, 9:00 p.m.
NCAA Women's Basketball – College Basketball
Last Night
Michigan State 97, Detroit Mercy 60
Tonight
Oakland at (25) Michigan, 7:00 p.m.
NHL – National Hockey League
Tonight
Edmonton Oilers at Detroit Red Wings, 7:00 p.m.
Chicago Blackhawks at Tampa Bay Lightning, 7:30 p.m.
NCAA Football – College Football – Mid American Conference
Last Night
Eastern Michigan 34, Bowling Green 31
Akron 24, Kent State 14
Miami (Oh) 28, Ball State 7
EMU 34, BGSU 31 – Eriksen has 3 TDs; E. Michigan beats Bowling Green 34-31
Ian Eriksen ran for three touchdowns and Eastern Michigan held on to beat Bowling Green 34-31 on Tuesday night.  Eriksen finished with 104 yards rushing on 24 carries and Shaq Vann ran 16 times for 117 yards for Eastern Michigan (5-7, 3-5 Mid-American Conference). Jarret Doege was 21-of-34 passing for 256 yards with two touchdowns to lead Bowling Green (2-10, 2-6). Josh Cleveland ran for 150 yards and a 2-yard score.  Doege's pair of TD passes in the third quarter gave the Falcons a 31-27 lead. Eriksen's third touchdown, a 7-yarder, ended the quarter. Bowling Green's Jake Suder missed a 29-yard field goal early in the fourth quarter. With about five minutes left, Cleveland was tackled for a 3-yard loss on a fourth-and-1. The Eagles took possession and then ran out the clock.
NCAA Football – Tide, Canes head rankings, Tigers, Sooners next
Alabama and Miami are one-two in the latest College Football Playoff rankings.  The Hurricanes moved ahead of Clemson for the second spot, 10 days before the two teams meet in the ACC championship game. The Crimson Tide will put its 11-0 record on the line when they take on Auburn on Saturday. Alabama moved to the top of the rankings after previous No. 1 Georgia lost to the Tigers on Nov. 11.  Oklahoma remains No. 4 heading into Saturday's game against West Virginia. Wisconsin and Auburn remained right behind the top four in a week when the top half of the selection committee's rankings were mostly unchanged.
MLB – Braves lose 13 international players in MLB sanctions
Major League Baseball Commissioner Rob Manfred has come down hard on the Atlanta Braves for circumventing international signing rules from 2015-17. Highly-touted infielder Kevin Maitan is among 13 prospects stripped from the Braves and now available to negotiate with other teams. Also, former general manager John Coppolella was banned for life and former special assistant Gordon Blakely was suspended for one year by Manfred.
MLB – Morgan urges voters to keep steroid users out of Hall
Hall of Fame second baseman Joe Morgan is urging voters to keep "known steroid users" out of Cooperstown. A day after the Hall revealed its 33-man ballot for the 2018 class, the 74-year-old Morgan argued against the inclusion of players implicated during baseball's steroid era in a letter to voters with the Baseball Writers' Association of America. The letter was sent Tuesday using a Hall email address. Morgan writes that steroid users cheated and don't belong in Cooperstown. He points out that he doesn't speak for every member of the Hall, but that many of them share his opinion.  About 430 ballots are being sent to eligible voters from the BBWAA, and a player must receive at least 75 percent for election. Ballots are due by Dec. 31 and results will be announced Jan. 24.
MLB – Cubs' Will Venable leaves front office to be 1st base coach
Will Venable is leaving the Chicago Cubs front office to be their first base coach. The former major league outfielder was hired last summer as a special assistant to president of baseball operations Theo Epstein and general manager Jed Hoyer. The 35-year-old Venable replaces Brandon Hyde, who has been promoted to bench coach for manager Joe Maddon. The Cubs also announced Tuesday that they had hired Jim Benedict as a special assistant to baseball operations. Benedict spent the previous two seasons as the vice president for pitching development for the Miami Marlins.
MLB – AP source: MLB, Japanese counterpart agree on posting deal
A new posting system is a step closer to reality for Major League teams interested in signing Japanese players. A person familiar with the agreement tells The Associated Press that MLB, its Japanese counterpart and the American players' union have agreed to a system that could allow Japanese star pitcher-outfielder Shohei Ohtani to be put up for bid next week. The person says the agreement is still not in writing and must be ratified by Nippon Professional Baseball and the players' union. Major league owners are scheduled to vote for ratification on Dec. 1 and Ohtani is expected to be posted then or the following day. Under a shortened timetable this offseason big league teams willing to pay the posting fee have 21 days to negotiate a major league contract. The fee is expected to max out at $20 million.
Source: Gymnastics doctor set to plead guilty to sex charges
A person with knowledge of the agreement says a former Michigan State University and USA Gymnastics doctor will plead guilty to multiple charges of sexual assault and face at least 25 years in prison. The person was not authorized to publicly discuss the agreement ahead of a Wednesday court hearing and spoke to The Associated Press on condition of anonymity. Dr. Larry Nassar is charged with molesting seven girls under the guise of treatment at his home and a campus clinic. All but one were gymnasts. The plea deal calls for a minimum prison sentence of 25 years. But the judge could go higher and set the minimum at 40 years. Separately, Nassar is awaiting sentencing for child pornography. He's also being sued by more than 125 women and girls.
Tennis – 1st-round withdrawals at Grand Slams could lose prize money
Grand Slam tournament officials are getting tougher on players who withdraw or perform below professional standards during a first-round major singles match. The Grand Slam Board says a player who is unfit to compete and withdraws before the draw could receive just 50 percent of the first-round prize money. The replacement will receive the remaining 50 percent. It is an attempt to stop players who aren't fully fit from playing in the first round just so they can collect prize money.
FIFA – FIFA bans 3 soccer officials for life for taking bribes
FIFA says three soccer officials who pleaded guilty in American courts to accepting bribes have been banned for life. They include former FIFA audit committee member Richard Lai of Guam, who testified in federal court that the source of his bribe money was Olympic powerbroker Sheikh Ahmad al-Fahad al-Sabah of Kuwait. Sheikh Ahmad referred his own case to the FIFA ethics committee in April. FIFA says two former soccer federation presidents, Julio Rocha of Nicaragua and Rafael Esquivel of Venezuela, have also been banned for life. They were arrested in Zurich in May 2015 and later extradited to the United States. FIFA says it imposed "appropriate fines in relation to the amounts of the bribes that they have admitted having taken."
AHL – American Hockey League
Last Night
Texas Stars 2, Chicago Wolves 1 – OT
NBAGL – NBA "G" League
Last Night
Oklahoma City Blue 122, Grand Rapids Drive 112