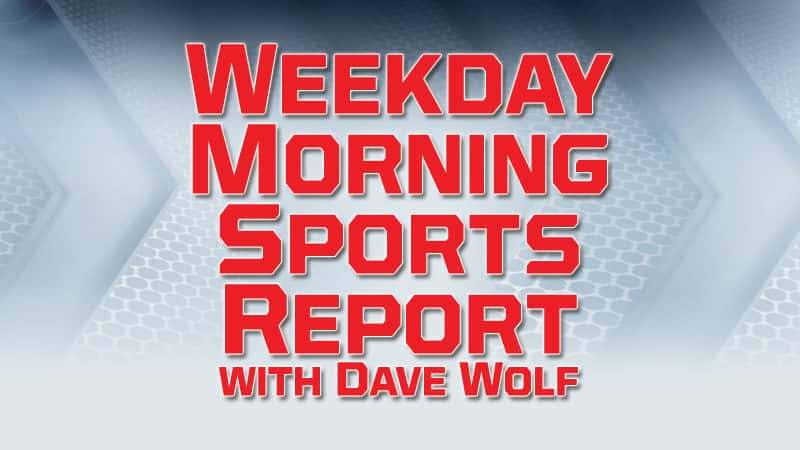 95.7 & 1400 WSJM Sports     @wsjmsports     wsjmsports.com     Monday, November 20, 2017
Other Week 11 Scores
Baltimore 23, Green Bay 0
Minnesota 24, L.A. Rams 7
Jacksonville 19, Cleveland 7
Houston 31, Arizona 21
Tampa Bay 30, Miami 20
N.Y. Giants 12, Kansas City 9, OT
New Orleans 34, Washington 31, OT
L.A. Chargers 54, Buffalo 24
Cincinnati 20, Denver 17
New England 33, Oakland 8
Philadelphia 37, Dallas 9
NFL – National Football League – Week 11
Yesterday
Detroit Lions 27, Chicago Bears 24
Lions 27, Bears 24 – Stafford, Prater lead Lions to 27-24 win over Bears
Matthew Stafford threw for 299 yards and two touchdowns, Matt Prater kicked a 52-yard field goal with 1:35 remaining and the Detroit Lions held on to beat the Chicago Bears 27-24 on Sunday.  Detroit (6-4) took the lead after Tarik Cohen had tied it for Chicago (3-7) with a 15-yard touchdown run.  Prater booted the winner after Stafford led a 42-yard drive to the 34. The Lions escaped with their third straight win when the Bears' Connor Barth was wide right on a 46-yarder in the closing seconds.  Stafford completed 21 of 31 passes. Marvin Jones Jr. had four receptions for 85 yards and a TD. Chicago dropped its third straight even though Jordan Howard ran for 125 yards and a touchdown. Mitchell Trubisky faded after a strong start, throwing for 179 yards and a TD. His 19-yard scramble on fourth-and-13 in the final minute put the ball on the Detroit 43.  Stafford threw for 195 yards and two touchdowns in the first half to help the Lions grab a 21-17 lead. Detroit trailed 10-0 in the first quarter and 17-7 in the second before charging ahead in the closing minutes of the half.
Tonight
Atlanta Falcons at Seattle Seahawks, 8:30 p.m.                 95.7 & 1400 WSJM Sports 7:45
NBA – National Basketball Association
Last Night
Detroit Pistons 100, Minnesota Timberwolves 97
Phoenix Suns 113, Chicago Bulls 105
Indiana Pacers 120, Miami Heat 95
Pistons 100, Timberwolves 97 – Drummond scores 20 points, Pistons outlast T-Wolves 100-97
Detroit rallied in the fourth quarter and then held on to beat Minnesota. Andre Drummond had 20 points and 16 rebounds to lead Detroit, while Avery Bradley and Tobias Harris each added 18 points. The Pistons bounced back after dropping back-to-back games for the first time this season. The Timberwolves saw their three-game winning streak end. Jimmy Butler had a team-high 26 points and 10 rebounds for Minnesota. Andrew Wiggins added 24 points, and Karl-Anthony Towns chipped in 16 points and nine rebounds for the Timberwolves.
Suns 113, Bulls 105 – Warren leads balanced Suns past Bulls, 113-105
TJ Warren scored nine of his 27 points in the fourth quarter, and the Phoenix bench contributed 50 points in the Suns' win over Chicago.  Devin Booker had 15 points and reserves Mike James and Troy Daniels combined for 29 as the Suns won their second straight and beat the Bulls for the third time in the past four tries. Rookie Lauri Markkanen had career-high 26 points and added 13 rebounds for Chicago, which missed a chance to win back-to-back games for the first time this season.
Pacers 120, Heat 95 – Pacers embarrass Heat in second half in 120-95 win
Bojan Bogdanovic scored 26 points and Myles Turner added 25 as Indiana ended its six-game losing streak at AmericanAirlines Arena with a win over Miami. Indiana shot 60 percent from the floor for its easiest win of the season. Turner, who made 11 of 14 shots from the field, added seven rebounds, four assists and three blocks. Indiana also got 15 points from shooting guard Victor Oladipo, who leads the Pacers in scoring on the season.
Tonight
Cleveland Cavaliers at Detroit Pistons, 7:00 p.m.
Indiana Pacers at Orlando Magic, 7:00 p.m.
NHL – National Hockey League
Yesterday
Colorado Avalanche 4, Detroit Red Wings 3 – OT
Avalanche 4, Red Wings 3 – OT – MacKinnon's OT goal caps Avs' rally over Red Wings
Nathan MacKinnon scored 2:55 into overtime, lifting Colorado to a 4-3 come-from-behind win over Detroit.  MacKinnon joined Erik Johnson with a goal and an assist, and Nail Yakupov and Carl Soderberg also scored for Colorado, which trailed 3-1 in third period. Tyson Barrie had two assists, and Jonathan Bernier stopped 21 shots. Justin Abdelkader, Andreas Athanasiou and Niklas Kronwall scored for Detroit. Red Wings goalie Jimmy Howard made 33 saves.   Jimmy Howard made 33 stops in defeat.  The Red Wings are home on Wednesday against Edmonton.
NCAA Basketball – Men's
Last Night
(2) Michigan State 93, Stony Brook 71
South Carolina 79, Western Michigan 66
(2) Michigan State 93, Stony Brook 71 – Spartans coast
Second-ranked Michigan State bounced back from Tuesday's loss to No. 1 Duke, but the Spartans also came away with an injury to their preseason All-American. Miles Bridges scored 20 points before limping off the court with a sprained left ankle in the second half of the Spartans' 93-71 thrashing of Stony Brook.  Nick Ward scored a season-high 22 points as Michigan State improved to 2-1.  Langford had a career-high 19 points and Cassius Winston scored a season-high 13 points and had six assists for the Spartans.  The Seawolves (0-4) led for much of the first half, holding Bridges to two points as they led 22-15 midway through the first half.
S. Carolina 79, WMU 66 – Gamecocks top Broncos 79-66 for 5th in Puerto Rico Tip-Off
Wesley Myers and Chris Silva each scored 14 points, while South Carolina took control after halftime to beat Western Michigan 79-66 on Sunday for 5th place in the relocated Puerto Rico Tip-Off.  The Gamecocks (4-1) started slow and trailed 13-2 before leading 35-34 at the break. They took over by running off 14 unanswered points during a 17-1 run while holding Western Michigan (2-3) without a basket for nearly 8 1/2 minutes.  That turned a one-point edge into a 57-40 margin on Kory Holden's 3-pointer with 10:02 left, a margin that stayed in double figures the rest of the game for Martin's 100th career win at South Carolina.  Wilder scored 15 points to lead Western Michigan, while Bryce Moore tied a career-high with four 3-pointers and scored 14 points.
Tonight
(13) Notre Dame at Chaminade, 9:00 p.m.        at Maui Invitational
Michigan vs. LSU, 11:00 p.m.      at Maui Invitational          95.7 & 1400 WSJM Sports (after football)
NCAA Basketball – Bridges limps off court late in game for No 2 Michigan State
Miles Bridges is day to day with a sprained left ankle for No. 2 Michigan State. Bridges was fouled with 8:32 left in a 93-71 win over Stony Brook on Sunday night as he was driving into the lane and landed awkwardly on his left foot and rolled his ankle. After trying to stay in the game to shoot free throws, he went back to the bench briefly before walking gingerly toward the locker room. Bridges received the most votes on The Associated Press preseason All-America team. The sophomore returned to school this season, turning down a chance to be a first-round pick in the NBA draft. He scored 20 points, matching his scoring average this season, against the Seawolves. Michigan State coach Tom Izzo isn't sure how long Bridges will be out. The Spartans play DePaul on Thursday night in Oregon in the Phil Knight Invitational.  "By Tuesday morning, I'll know more," Izzo said. "Miles is tough enough to play through it but we're not going to take any chances."
NCAA Women's Basketball – College Basketball
Yesterday
Michigan State 107, Charleston 43
Iowa 79, Western Michigan 56
(6) Notre Dame 72, (18) Oregon State 67
NASCAR – Truex wins race, championship
Martin Truex Jr. left nothing to chance as he wrapped up his first NASCAR Cup championship.  Truex won Sunday's season finale at Homestead-Miami Speedway, holding off Kyle Busch, Kevin Harvick and Brad Keselowski for the championship. All but Truex were former champions, but Truex was the favorite before capturing his season-high eighth victory of the year. Busch finished second in the race for Joe Gibbs Racing as Toyota went 1-2 in the finale to complete its season of dominance.  Kyle Larson was third at Homestead, followed by Harvick.
| | | |
| --- | --- | --- |
| 1 | Alabama (58) | 11-0 |
| 2 | Miami (3) | 10-0 |
| 3 | Oklahoma | 10-1 |
| 4 | Clemson | 10-1 |
| 5 | Wisconsin | 11-0 |
| 6 | Auburn | 9-2 |
| 7 | Georgia | 10-1 |
| 8 | Ohio State | 9-2 |
| 9 | Notre Dame | 9-2 |
| 10 | TCU | 9-2 |
| 11 | USC | 10-2 |
| 12 | Penn State | 9-2 |
| 13 | UCF | 10-0 |
| 14 | Washington State | 9-2 |
| 15 | Washington | 9-2 |
| 16 | Mississippi State | 8-3 |
| 17 | Memphis | 9-1 |
| 18 | Oklahoma State | 8-3 |
| 19 | LSU | 8-3 |
| 20 | Stanford | 8-3 |
| 21 | Michigan State | 8-3 |
| 22 | South Florida | 9-1 |
| 23 | Northwestern | 8-3 |
| 24 | Virginia Tech | 8-3 |
| 25 | Boise State | 9-2 |
NCAA Football – Status quo among top 9
There is no change among the top nine in the latest Associated Press college football poll.  That means Alabama stays No. 1, followed by Miami, Oklahoma, Clemson and Wisconsin. The Crimson Tide picked up 58 of 61 first-place votes, while the Hurricanes claimed the other three. Auburn is sixth, ahead of Georgia, Ohio State. Notre Dame and TCU. The Horned Frogs moved up a spot with Oklahoma State's loss to Kansas State, which dropped the Cowboys to 18th. Northwestern, Virginia Tech and Boise State cracked the poll, while Michigan, West Virginia and North Carolina State fell out.
 
NCAA Football – UCLA fires coach Jim Mora
UCLA has fired football coach Jim Mora, who was 46-30 in six seasons with the Bruins. The decision was announced a day after the Bruins were beaten by Southern California to fall to 5-6. UCLA is 17-19 since 2015, including 10-16 in the Pac-12.
CFL – Canadian Football League – Division Finals
Toronto Argonauts 25, Saskatchewan Rough Riders 21
Calgary Stampeders 32, Edmonton Eskimos 28
Next Sunday – 105th Gray Cup Championship
Calgary (13-4-1) at Toronto (9-9), 6:00 p.m.
 
AHL – American Hockey League
Yesterday
Rockford IceHogs 4, Chicago Wolves 3 – Shootout
MHSAA – High School Sports
Saturday
Football – State Semifinals
Division 4 at Jackson
Edwardsburg 32, River Rouge 21
Edwardsburg (12-1) will face Grand Rapids Catholic Central (13-0) for the championship, Friday at 7:30 p.m. at Ford Field
Division 7 at Lansing Catholic
Saugatuck 14, Madison Heights-Madison 7
Saugatuck (10-3) will face Pewamo-Westphalia (12-1) for the championship, Saturday at 10:00 a.m. at Ford Field
Division 3 at East Kentwood
Muskegon 42, Battle Creek Harper Creek 0
Division 8 at Howell
Ottawa Lake Whiteford 50, Mendon 21