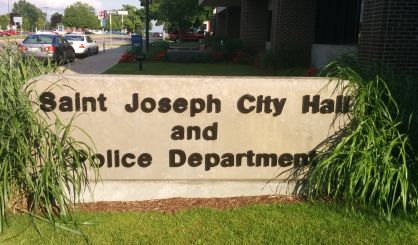 Two new St. Joseph City Commissioners were sworn in and seated this week. Following their wins in elections last week, Laura Goos and Peggy Getty were made official Monday night, along with the re-elected Michael Garey. Goos, a newcomer, told WSJM News her first task is to learn. After that, she wants to engage more of the public. She hit the ground running Monday, being appointed mayor pro tem.
"I'm just really excited to have the role and to have the citizens behind us and the residents with us for the whole journey," Goos said. "It's a little overwhelming with my first meeting, but I think it's going to be great."
Peggy Getty told WSJM she wants to get the community more engaged in its government by letting people know about board openings.
"I was really encouraged by the positions that are open on the various committees and commissions, and I think if we can get people to fill those openings and to get more involved with that, I think the more voices the better."
The new commission then re-appointed Michael Garey to be the mayor. The next step was to decide how to fill a vacancy on the commission. The body decided to take applications through noon on November 27. From there, they'll decide what to do next depending on how many applications they get. Mayor Garey said former commissioner Fran Chickering, the fourth highest vote getter last week, indicated she would not pursue that commission vacancy.