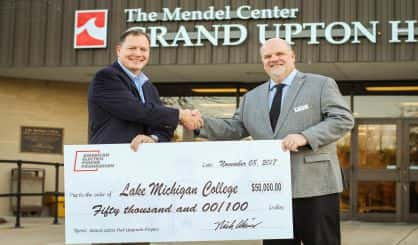 A renovation project planned by Lake Michigan College for the Mendel Center's Grand Upton Hall will have some support from the American Electric Power Foundation. AEP's Bill Downey tells WSJM News the foundation has been a partner with Lake Michigan College for many years, and that's it's giving a $50,000 grant to the LMC project.
"They were invited to apply for this grant because of the education portion of it and because of the community growth portion of it," Downey said. "This project seemed like a good fit for the foundtion, and they were invited to apply."
LMC is planning updated designs and improved functionality for the more than 14,000 square foot Grand Upton Hall. The project will also mean new lighting and other technology for events and trade shows. It's the first renovation project at the hall since the 1970s, and the work will start in the summer of 2019.