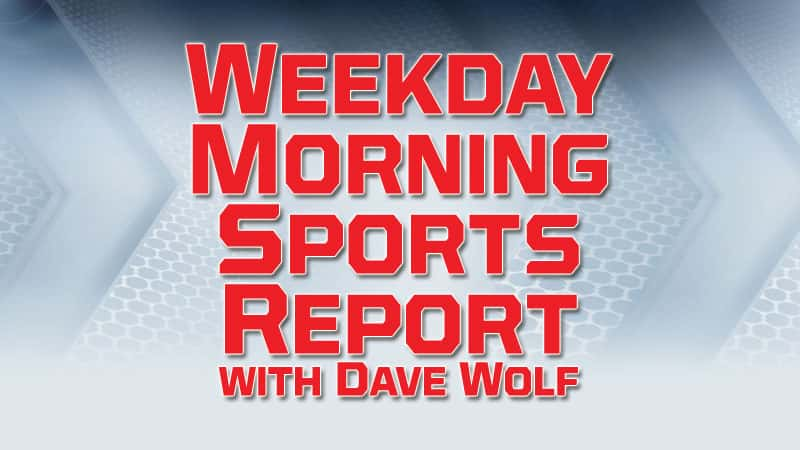 95.7 & 1400 WSJM Sports     @wsjmsports     wsjmsports.com     Friday, November 17, 2017
NCAA Men's Basketball – College Basketball
Last Night
Michigan 61, Southern Miss 47
(13) Notre Dame 105, Chicago State 66
Tulsa 81, Western Michigan 74
Eastern Michigan 76, Arkansas State 59
Michigan 61, So. Miss 47 – Teske lifts Michigan to 61-47 win over Southern Miss
Jon Teske had 10 points and 11 rebounds, and Michigan used a 20-1 second-half run to put away Southern Mississippi in a 61-47 victory Thursday night. The 7-foot-1 Teske easily surpassed his previous career highs of four points and three rebounds, and the Wolverines (3-0) remained undefeated. Michigan has trailed in the second half in all three of its games this season, but the
Wolverines were able to prevail against North Florida, Central Michigan and Southern Miss.  The Golden Eagles (1-1) led 33-32 at halftime and took a 40-36 advantage on a basket by Eddie Davis with 14:30 remaining. Then Southern Miss went over eight minutes without scoring. Duncan Robinson gave Michigan a 41-40 lead with a 3-pointer, and Teske scored back-to-back baskets to make it 51-40. After Tim Rowe broke the Southern Miss drought with a free throw, Michigan ran
off five more points to lead 56-41. Tyree Griffin led the Golden Eagles with 15 points. Muhammad-Ali Abdur-Rahkman scored 14 points for Michigan, and Robinson and Moe Wagner added 12 each.
 (13) Notre Dame 105, Chicago State 66 – Gibbs scores 23 in No. 13 Notre Dame's 105-66 victory
Sophomore guard T.J. Gibbs survived a scary second-half fall to score a career-high 23 points as No. 13 Notre Dame ran away from Chicago State 105-66 on Thursday night. Gibbs hit the court hard with 11:59 remaining in the second half but stayed in the game for the Irish (3-0). He finished 8 of 11 from the field, including 4 of 7 from beyond the 3-point arc, and added three assists before taking a seat on the bench with 5:47 remaining. Bonzie Colson, a preseason Associated Press All-America selection, had 15 points and nine rebounds, and fellow senior Matt Farrell added 18 points and four assists for coach Mike Brey, whose 385th victory at Notre Dame was never in doubt after a 7-0 start led to a 56-29 halftime lead.
Tulsa 81, WMU 74 – Tulsa beats Western Michigan 81-74 in Puerto Rico Tip-Off
Curran Scott scored 17 points and Tulsa led wire-to-wire in beating Western Michigan 81-74 on Thursday night in an opening-round game in the Puerto Rico Tip-Off.  The tournament was moved because of hurricane damage in Puerto Rico to Coastal Carolina University. Thomas Wilder led the Broncos with 19 points and seven assists. Josh Davis added 14 points and eight rebounds, Bryce Moore 13 points and Brandon Johnson 11 points.
EMU 76, Ark State 59 – Thompson IV, Jackson help E. Michigan beat Arkansas St.
James Thompson IV had 23 points and 11 rebounds and Paul Jackson scored 21 points with seven assists and four steals to lead Eastern Michigan to a 76-59 win over Arkansas State on Thursday night.  Tim Bond added 15 pointS and three steals for Eastern Michigan (3-0).
Today
Appalachian State vs. Western Michigan, 5:00 p.m.  at Conway, SC
Saturday
Eureka at Central Michigan, 1:00 p.m.
Howard at Eastern Michigan, 2:00 p.m.
Sunday
Stony Brook at (2) Michigan State, 4:00 p.m.           No broadcast
NCAA Basketball – Michigan State's Goins has mild knee sprain
Michigan State forward Kenny Goins has a sprained left knee and is expected to miss a couple weeks.  The school announced Goins' timetable Thursday and described the sprain as mild.  The 6-foot-7 Goins scored four points in 15 minutes in Michigan State's loss to No. 1 Duke on Tuesday night. He averaged 3.4 points a game last season.
NFL – National Football League – Week 11
Last Night
Pittsburgh Steelers 40, Tennessee Titans 17
Steelers 40, Titans 17 – Roethlisberger throws 4 TDs, Steelers drill Titans 40-17
The no huddle offense came up big as Ben Roethlisberger threw for 299 yards and four touchdowns, three to Antonio Brown, and the Pittsburgh Steelers pulled away from the Tennessee Titans in a 40-17 victory. Running the no-huddle extensively for the first time all season, Roethlisberger completed 30 of 45 passes to help the Steelers (8-2) win their fifth straight. Brown caught 10 passes for 144 yards and the three scores.
Sunday
Detroit Lions at Chicago Bears, 1:00 p.m.                          WSJM Sports/Cosy-FM 11:00 a.m.
Philadelphia Eagles at Dallas Cowboys, 8:30 p.m.              95.7 & 1400 WSJM Sports 7:30
NHL – National Hockey League
Tonight
Buffalo Sabres at Detroit Red Wings, 7:30 p.m.
NHL – Wings RW Witkowski suspended 10 games
Detroit Red Wings right winger Luke Witkowski was handed a 10-game suspension Thursday for his role in Wednesday's massive brawl in a game against the Calgary Flames.  During Detroit's 8-2 win, Witkowski was originally involved in a fight with Flames defenseman Brett Kulak. He was sent off the ice by officials but returned to the ice and then became entangled in other fights.  Witkowski was given a misconduct and after the game he said his return was prompted by someone spearing him in the back of the leg after he left the ice.  Calgary's Matthew Tkachuk was given a major penalty for spearing and a 10-minute misconduct. He will have a hearing on Friday to determine supplemental discipline, if any.
NHL – Rockets owner Fertitta interested in NHL team in Houston
The owner of the NBA's Rockets has expressed interest in bringing an NHL franchise to Houston.  Tilman Fertitta posted on his verified Twitter account Thursday that he would be open to the possibility of acquiring an NHL team. He stressed it must be a deal that works for all parties concerned. "As I've mentioned before, I'm very interested in the possibility of bringing the NHL to Houston, but it will have to be a deal that works for my organization, the city, fans of the NHL throughout the region and the NHL Board of Governors," said Fertitta, who bought the Rockets in September. "We are in the early stages of evaluating what opportunities may exist but look forward to a thorough process." Fertitta's post came a day after reports said Fertitta and NHL Commissioner Gary Bettman have met to discuss the viability of Houston as an NHL city. Houston has never had an NHL team, but it does have a hockey legacy. The World Hockey Association's Aeros called Houston home from 1972-1978. Gordie Howe played four seasons for the Aeros alongside sons Mark and Marty. Quebec City and Seattle also have expressed interest in acquiring an NHL team through expansion or relocation.
NBA – National Basketball Association
Tonight
Detroit Pistons at Indiana Pacers, 7:00 p.m.
Charlotte Hornets at Chicago Bulls, 8:00 p.m.
NCAA Football – College Football
Saturday
(24) Michigan at (5) Wisconsin, 12:00 p.m.              News/Talk 94.9 WSJM 11:00
Navy at (8) Notre Dame, 3:30 p.m.                 
Maryland at (17) Michigan State, 4:00 p.m.              Superhits 103.7 Cosy-FM 2:30
NCAA Women's Basketball – College Basketball
Yesterday
(5) Louisville 74, (24) Michigan 49
Cleveland State 77, Eastern Michigan 65
MLB – Astros' Altuve wins AL MVP, Marlins' Stanton earns NL honor
Houston Astros dynamo Jose Altuve has won the American League MVP award, towering over New York Yankees slugger Aaron Judge by a wide margin.  The 5-foot-6 Altuve drew 27 of the 30 first-place votes in balloting by members of the Baseball Writers' Association of America. Altuve batted a major league-best .346. He hit 24 home runs with 81 RBIs, scored 112 times, stole 32 bases and showed a sharp glove at second base. The 6-foot-7 Judge won the AL Rookie of the Year award Monday. He set a rookie record with 52 home runs. Jose Ramirez of the Cleveland Indians finished third. The award was announced Thursday. Altuve helped lead the Astros to their first World Series championship. Voting for these honors was completed before the postseason began. Miami Marlins slugger Giancarlo Stanton won the NL MVP award, barely edging Joey Votto of the Cincinnati Reds. In the closest MVP vote since 1979, Stanton became only the seventh player to win from a losing team. Stanton led the big leagues with 59 home runs and 132 RBIs.
MLB – MLB pace changes
Baseball Commissioner Rob Manfred says rule changes to speed games will be put in place next year with or without an agreement with the players' association. Major League Baseball proposed last offseason to institute a 20-second pitch clock, limits in trips to the mound by catchers and raising the bottom of the strike zone. The union did not agree, and management has the right to impose them unilaterally for 2018.  Following a quarterly owners' meeting, Manfred said his "preferred path" is a negotiated agreement with the players, but if he says the changes will be implemented in 2018 "one way or the other." On other matters, Manfred said a new posting system with Japan should be in place soon. He is not yet ready to speak about expanded protective netting in ballparks next season. And after a record 6,105 home runs this season, Manfred says MLB will discuss studies of baseballs later in the offseason. MLB says the balls are within specifications.
MLB – White Sox-Mariners trade
The Seattle Mariners have made a deal that should give them more flexibility if they want to try to sign Japanese pitcher/outfielder Shohei Otani. They acquired an additional $500,000 for their international signing bonus pool from the Chicago White Sox in a trade for Brazilian right-hander Thyago Vieira. The trade increases the Mariners' available money for a signing bonus to $1,557,500.
AHL – American Hockey League
Tonight
Grand Rapids Griffins at Iowa Wild, 8:00 p.m.
Chicago Wolves at Manitoba Moose, 8:00 p.m.
NBAGL – NBA 'G' League
Last Night
Maine Red Claws 99, Grand Rapids Drive 96
ECHL – East Coast Hockey League
Yesterday
Toledo Walleye 6, Fort Wayne Komets 3
Tonight
Kalamazoo Wings at Indy Fuel, 7:35 p.m.
Toledo Walleye at Cincinnati Cyclones, 7:35 p.m.
MHSAA – High School Sports
Saturday
Football – State Semifinals
Division 4 at Jackson
Edwardsburg (11-1) vs. River Rouge (10-2), 1:00 p.m.
Division 7 at Lansing Catholic
Saugatuck (9-3) vs. Madison Heights Madison (12-0), 1:00 p.m.