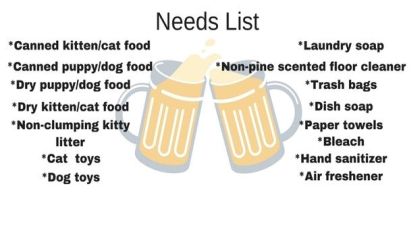 This is the season to help out the Humane Society of Southwestern Michigan. The organization has several fundraising and collection events planned for the next month or so. Director Jill Svoboda tells WSJM News there's the second annual Grand Mustachio Bashio at North Pier Brewing Company in Benton Harbor on December 2.
"We are asking all of the guys — or ladies — to go ahead and grow those mustaches out, and then we're going to have a competition, and then we'll judge and someone will be crowned the mustache king," Svoboda said.
Svoboda tells us prizes will be awarded to those with the best mustaches in several categories. A suggested donation to the Humane Society will be taken at the door. Speaking of Humane Society fundraisers at breweries, there's another one going on right now and through the end of next month at an establishment in Bridgman.
"Haymarket Brewing is a non-tipping establishment, so any tips they receive between now and until New Year's Eve will go to the Humane Society, which is very awesome of the Haymarket staff and we're very happy they chose us," Svoboda said.
Also, the Humane Society will be at Haymarket on December 16 from noon to 3 p.m. so you can meet some of its animals. Everyone is welcome to donate an item.
Finally, if you're in the mood to donate to the organization this weekend, you can stop by Martin's in Stevensville. The Humane Society will be there from 10 a.m. to 3 p.m. collecting donations. Svoboda tells us items and money are needed right now as the Humane Society prepared to move into its new home in Royalton Township early next year.