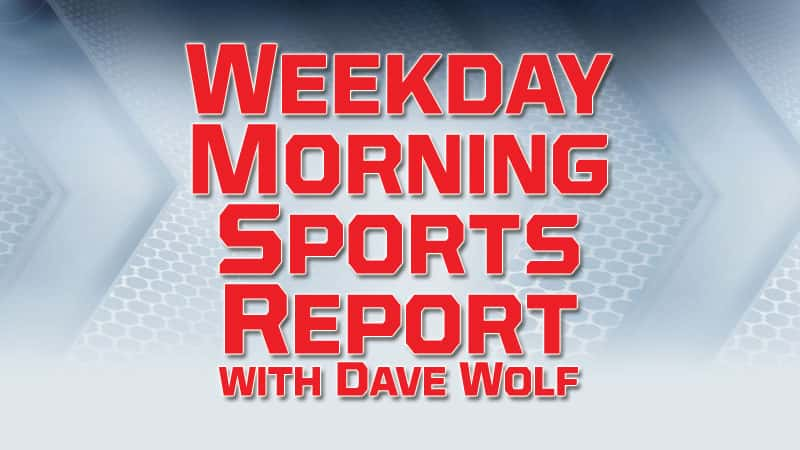 95.7 & 1400 WSJM Sports     @wsjmsports     wsjmsports.com     Wednesday, November 15, 2017
NCAA Football – College Football
Yesterday
Northern Illinois 35, Western Michigan 31
Eastern Michigan 27, Miami (OH) 24
NIU 35, WMU 31 – Huff runs for 185 yards, 2 TDs; N. Illinois beats WMU 35-31
Jordan Huff ran for two touchdowns and a career-high 185 yards as Northern Illinois scored a pair of fourth-quarter touchdowns to beat Western Michigan 35-31 on Wednesday night.  Huff had a 31-yard touchdown run in the first quarter, and scored from 14 yards out to tie the game 28-28 early in the fourth quarter. The Huskies' Marcus Childers threw a 26-yard touchdown pass to Mitchell Brinkman with 6:20 remaining to cap the scoring.  Northern Illinois (8-3, 6-1 Mid-American Conference) ran out the last five minutes of the game, highlighted by Tre Harbison's 12-yard run on a third-and-10 with about a minute left.  Reece Goddard threw two touchdown passes and ran for another score for Western Michigan (6-5, 4-3). Jarvion Franklin had 115 yards rushing and a touchdown. Tyron Arnett had three catches for 93 yards.
EMU 27, M-OH 24 – Roback sets career record in Eastern Michigan's 27-24 win
Brogan Roback threw a pair of third-quarter touchdown passes to Sergio Bailey, rallying Eastern Michigan to a 27-24 victory over Miami (Ohio) on a Wednesday night in which the Eagles quarterback became the school's all-time total offense leader. Roback connected with Bailey on 32- and 10-yard touchdown passes to lead 27-17.  Ryan Smith caught an 11-yard score from Gus Ragland with two minutes remaining to get Miami within three but it failed to recover the onside kick and had no timeouts left to stop the clock.  Roback scored on a 3-yard run in the first quarter before Miami's Kenny Young ran for a pair of touchdowns, 6 and 5 yards, in the second quarter with the RedHawks leading 17-13 at halftime.  Roback threw for 269 yards and ran for 3, giving the senior 8,811 in his career to pass Walter Church (1996-2000) at 8,628. 
NHL – National Hockey League
Last Night
Detroit Red Wings 8, Calgary Flames 2
Chicago Blackhawks 6, New York Rangers 3
Red Wings 8, Flames 2 – Mantha, Athanasiou lead Red Wings to 8-2 win over Flames
Anthony Mantha and Andreas Athanasiou each scored twice and added an assist as the Detroit Red Wings routed the Calgary Flames 8-2 on Wednesday night. Gustav Nyquist, Dylan Larkin, Justin Abdelkader and Luke Glendening also scored for the Red Wings, who raced out to a 4-1 lead in the first period.  Micheal Ferland and Johnny Gaudreau had the goals for the Flames in the opener of a six-game road trip.  Athanasiou opened the scoring when his cross-crease pass was deflected by Flames defenseman T.J. Brodie through the legs of Calgary goalie Eddie Lack just 5:35 into the game.  Larkin scored Detroit's fourth short-handed goal of the season, tying the Red Wings for the NHL lead.
Blackhawks 6, Rangers 3 – Anisimov scores 3 times as Blackhawks beat Rangers 6-3
Artem Anisimov scored three times in the third period against his former team, Nick Schmaltz had three assists and the Chicago Blackhawks cooled off the New York Rangers with a 6-3 victory Wednesday night.  Alex DeBrincat, John Hayden and Jonathan Toews also scored for Chicago, which had dropped three of four. Duncan Keith had two assists and Corey Crawford made 25 saves, helping the Blackhawks bounce back from an ugly 7-5 loss to New Jersey on Sunday.  Rick Nash had a goal and an assist for the Rangers, who have scored at least three times in 11 of their last 13 games. Kevin Hayes and Mika Zibanejad also scored, and Lundqvist made 30 saves before he was replaced by Ondrej Pavelec at 6:32 of the third.
NBA – National Basketball Association
Last Night
Milwaukee Bucks 99, Detroit Pistons 95
Oklahoma City Thunder 92, Chicago Bulls 79
Indiana Pacers 116, Memphis Grizzlies 113
Bucks 99, Pistons 95 – Middleton scores 27, Bucks block 16 shots, top Pistons 99-95
Khris Middleton scored 27 points, Giannis Antetokounmpo added 21 and the Milwaukee Bucks beat the Detroit Pistons 99-95 on Wednesday night for their fourth straight victory. Milwaukee blocked 16 shots, two shy of the team record set in 1980 at Detroit.  Recently acquired Eric Bledsoe had 12 points, all in the second half, to help the Bucks halt Detroit's five-game winning streak. Milwaukee had lost four in a row before starting its win streak. The Pistons, who began an 11-game stretch with nine on the road, were led by Avery Bradley's 28 points and five assists. Detroit, which fell to 3-3 away from home, also got 13 points and 17 rebounds from Andre Drummond.  The Pistons visit Indiana on Friday after beating them 114-97 last Wednesday.
Thunder 92, Bulls 79 – Westbrook, Thunder top Bulls 92-79 for 3rd straight win
Russell Westbrook had 21 points and seven assists and the Oklahoma City Thunder beat the Chicago Bulls 92-79 on Wednesday night for their third straight victory. Carmelo Anthony returned to the Thunder lineup after missing the previous game with a sore lower back and finished with 18 points and 11 rebounds. Jerami Grant added 15 points and 11 rebounds. Oklahoma City had lost four straight before getting things turned around. The wins during the current streak have come by an average of 11.7 points.  Lauri Markkanen and Antonio Blakeney each scored 16 points for Chicago, and Denzel Valentine added 13. The Bulls shot 34.7 percent from the field.
Pacers 116, Grizzlies 113 – Pacers build big lead, hold on to beat Grizzlies 116-113
Darren Collison scored a season-high 30 points, Victor Oladipo had 21 and the Indiana Pacers built an early lead before holding off a late rally to beat the Memphis Grizzlies 116-113 on Wednesday night.  Collison added eight assists, made all 12 of his foul shots and connected on 8 of 13 from the field, including 2 of 4 from outside the arc. Memphis lost its third straight. It had a chance to tie it after a review of an out-of-bounds call gave the Grizzlies the ball with 9 seconds left. Marc Gasol's 3-pointer with 3 seconds remaining was off the mark.  Gasol led Memphis with 35 points and 13 rebounds. Tyreke Evans added 18 points and nine assists, while Chandler Parsons scored 13 points.  Bojan Bogdanovic finished with 16 points for Indiana, including a 3-pointer that momentarily stalled a fourth-quarter surge by Memphis.
NCAA Men's Basketball – College Basketball
Tonight
Southern Miss at Michigan, 7:00 p.m.                       95.7 & 1400 WSJM Sports 6:30
Chicago State at (13) Notre Dame, 7:00 p.m.
Arkansas State at Eastern Michigan, 7:00 p.m.
Tulsa at Western Michigan, 8:00 p.m.
NCAA Basketball – 3 UCLA basketball players apologize for shoplifting in China
Three UCLA basketball players accused of shoplifting in China have been suspended indefinitely. LiAngelo Ball, Jalen Hill and Cody Riley admitted to the crime and apologized Wednesday, hours after returning from China. Head coach Steve Alford announced the suspensions while describing the players as "good young men." The coach said the trio wouldn't be allowed to suit up, practice or travel with the team while the university continues to sort out the circumstances of last week's incident in Hangzhou (hahn-joh), China.
NCAA Women's Basketball – College Basketball
Yesterday
Western Michigan 65, Loyola-Chicago 47
Tonight
(24) Michigan at (5) Louisville, 7:00 p.m.
Eastern Michigan at Cleveland State, 7:00 p.m.
NFL – National Football League – Week 11
Tonight
Tennessee Titans at Pittsburgh Steelers, 8:25 p.m.  95.7 & 1400 WSJM Sports (after U of M Basketball)
NFL – Detroit's Lang able to practice; Lions acquire Edebali
Detroit offensive lineman T.J. Lang participated fully in practice Wednesday after missing last weekend's game against Cleveland because of a concussion. Defensive end Ezekiel Ansah missed practice because of a back injury, and running back Dwayne Washington was out with a hip problem. Safety Don Carey was limited by a knee injury, and linebacker Jalen Reeves-Maybin was limited by an
ankle injury. The Lions also announced that they have acquired linebacker Kasim Edebali via waivers from Denver. Detroit waived defensive end George Johnson, who had just been signed the previous day. Detroit plays at Chicago on Sunday.
NFL – Cowboys' Elliott drops appeal, will serve rest of 6-game ban
Dallas Cowboys running back Ezekiel Elliott has dropped his appeal of a six-game suspension over alleged domestic violence. He served the first game in Dallas' 27-7 loss to Atlanta last weekend and will miss five more before he is eligible to return for the Cowboys' Dec. 24 game against Seattle. The 22-year-old Elliott was suspended in August after the NFL concluded he had several physical confrontations in the summer of 2016 with his girlfriend at the time.
NFL – Feud grows between NFL, Cowboys' Jerry Jones over Goodell
The feud between Cowboys owner Jerry Jones and NFL Commissioner Roger Goodellcontinues to escalate. The Associated Press has obtained a letter sent to Jones' attorney accusing the team owner of "conduct detrimental to the league's best interests" over his objection to a contract extension for Goodell. The letter accusing Jones of sabotaging the negotiations was sent to David Boies (boyz) on Wednesday. Jones hired Boies and threatened to sue the NFL if Goodell's contract extension was approved by the compensation committee, made up of six owners. All 32 owners voted unanimously in May to let the committee finalize a deal with Goodell.
MLB – Scherzer, Kluber win Cy Young Awards by wide margins
The American and National League Cy Young awards have gone to a couple of hurlers who have won it before. Indians ace Corey Kluber has won his second AL Cy Young Award after picking up 28 of 30 first-place votes from the Baseball Writers' Association of America. Kluber led the majors with a 2.25 ERA and tied for the major league lead with 18 victories, three years after capturing the award.  Boston's Chris Sale finished second and Luis Severino of the New York Yankees was third. Nationals pitcher Max Scherzer is the NL Cy Young Award winner for the second straight year after going 16-6 with a 2.51 ERA and a league-leading 268 strikeouts in 31 starts.  Scherzer received 27 of 30 first-place votes to easily outdistance Los Angeles odgers ace Clayton Kershaw in the balloting by the Baseball Writers' Association of America.  It's the third Cy Young for Sherzer, who also claimed the American League honor in 2013 with the Tigers.
AHL – American Hockey League
Yesterday
Manitoba Moose 3, Chicago Wolves 2
ECHL – East Coast Hockey League
Today
Ft. Wayne Komets at Toledo Walleye, 10:35 a.m.
NBAGL – NBA 'G' League
Last Night
Windy City Bulls 112, Delaware 87ers 110
Tonight
Grand Rapids Drive at Maine Red Claws, 7:00 p.m.
MCCAA – Junior College Basketball
Tonight
Andrews University at Glen Oaks Community College         5:30 p.m. (Women)/7:30 p.m. (Men)