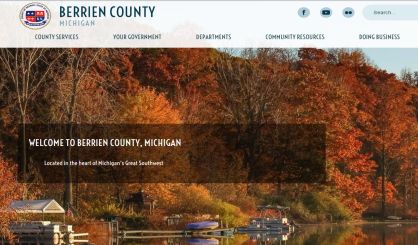 Now up and running is a redesigned Berrien County website. Berrien County IT Director Ken Hoffman tells WSJM News the county board this year approved an update for the site in order to meet new state accessibility requirements. The new site launched Thursday morning. It's designed to better handle mobile devices and has other features.
"I'm just hopeful that people will check it out," Hoffman said. "It's ADA-compliant, and it's mobile acceptable now so people can do it on their cellphones or i-Pads, their Surface Pro, or whatever device they have."
The new site also allows for you to sign up for notifications. The county worked with a firm called Civic Plus for the past several months to prepare the new site at a price of about $80,000. Some of the URLs are now different, and so you'll have to update any bookmarks you may have had. The website is BerrienCounty.org.