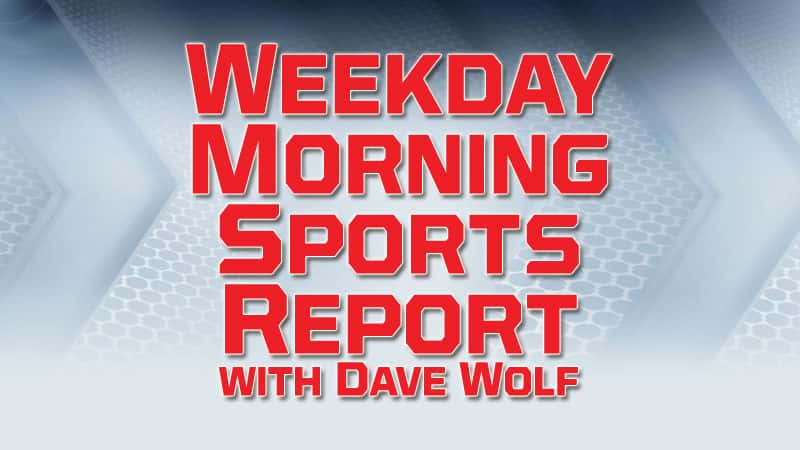 95.7 & 1400 WSJM Sports     @wsjmsports     wsjmsports.com     Wednesday, November 15, 2017
NCAA Men's Basketball – College Basketball
Yesterday
(1) Duke 88, (2) Michigan State 81
(1) Duke 88, (2) Michigan State 81 – Allen leads No. 1 Duke past No. 2 Michigan State 88-81
Grayson Allen, Duke's lone senior, scored a career-high 37 points, freshman Trevon Duval had 17 points and 10 assists, and the top-ranked Blue Devils beat No. 2 Michigan State 88-81 in the Champions Classic on Tuesday night in Chicago.  On a court full of some of college basketball's brightest stars, Allen stepped up whenever his team needed a big play. The Blue Devils (3-0) lost Marvin Bagley III to an eye injury midway through the first half, but Allen made five 3-pointers and scored 23 points in the second half to help make up for the missing freshman phenom. Wendell Carter Jr. added 12 points and 12 rebounds, helping Duke coach Mike Krzyzewski improve to 12-1 in his career against Michigan State. Miles Bridges, Jaren Jackson Jr. and Nick Ward each scored 19 points for the Spartans, who blocked 12 shots, just one shy of the school record. Michigan State (1-1) shot 51 percent from the field, but was outrebounded 46-34 by the Blue Devils.
NCAA Basketball – Three UCLA players return to US after China shoplifting incident
Three UCLA basketball players detained in China on suspicion of shoplifting have returned to Los Angeles. Freshmen LiAngelo Ball, Jalen Hill and Cody Riley were held up in Hangzhou for questioning following allegations of shoplifting last week before the 23rd-ranked Bruins played Georgia Tech in their season-opening game in Shanghai. Pac-12 Commissioner Larry Scott said Tuesday the matter "has been resolved to the satisfaction of the Chinese authorities." Scott thanked President Donald Trump, the White House and the State Department for their efforts in resolving the matter. There was no immediate word on the trio's status for the team's home opener
Wednesday night against Central Arkansas.
NCAA Women's Basketball – College Basketball
Yesterday
Central Michigan 92, Vanderbilt 75
(6) Notre Dame 78, Western Kentucky 68
Tonight
Western Michigan at Loyola-Chicago, 8:00 p.m.
NCAA Football – College Football
Yesterday
Central Michigan 42, Kent State 23
CMU 42, Kent St. 23 – Central Morris lifts Central Michigan past Kent State 42-23
Shane Morris threw two touchdown passes, including a back-breaking 53-yard connection with Corey Willis in the fourth quarter, and Central Michigan defeated Kent State 42-23 on Tuesday night. The Golden Flashes had rallied from a 28-10 deficit, pulling within 28-23 on a 57-yard touchdown run by Mike Carrigan early in the fourth quarter. After failing on a 2-point conversion, Kent State pinned Central Michigan on the 9 with the help of a penalty. But the Chippewas needed just five plays to regain the momentum. Romello Ross added a 2-yard touchdown run with 2:04 to play to wrap it up for CMU (7-4, 5-2 Mid-American Conference) one play after the Golden Flashes (2-9, 1-6) turned the ball over on downs. Morris was 14 of 22 for 297 yards and Tyler Conklin had 13 catches for 104 yards.
Tonight
Western Michigan at Northern Illinois, 7:00 p.m.
Eastern Michigan at Miami (OH), 7:00 p.m.
NCAA Football – Crimson Tide is No. 1 in CFP
Alabama has been installed as the new No. 1 team in the latest College Football Playoff rankings following Georgia's loss to Auburn last weekend. Clemson is second, with Miami and Oklahoma joining the Tigers and Crimson Tide among the top four for the first time. Wisconsin and Auburn are fifth and sixth respectively, Georgia dropped to seventh, and Notre Dame slipped from third to eighth following its blowout loss to the Hurricanes.
NHL – National Hockey League
Tonight
Calgary Flames at Detroit Red Wings, 7:30 p.m.
New York Rangers at Chicago Blackhawks, 8:00 p.m.
NBA – National Basketball Association
Tonight
Detroit Pistons at Milwaukee Bucks, 8 p.m.
Chicago Bulls at Oklahoma City Thunder, 8 p.m.
Indiana Pacers at Memphis Grizzlies, 8 p.m.
MLB – Molitor, Lovullo take manager honors
The Baseball Writers' Association of America has announced the winners for the American and National League managers of the year. The Minnesota Twins' one-year turnaround has led Paul Molitor to be named the AL Manager of the Year. The Twins went 85-77 this past season and earned their first playoff spot since 2010 after losing 103 games in 2016.  Molitor received 18 of 30 first-place votes. Cleveland Indians manager Terry Francona received 11 first-place votes to finish second in the balloting, one spot ahead of Houston's A.J. Hinch. Torey Lovullo is the NL Manager of the Year after guiding the Arizona Diamondbacks to a 93-69 record and a wild-card berth in his first year at the helm. Lovullo received 18 of 30 first-place votes and 111 points in voting by the Baseball Writers' Association of America.  Dave Roberts of the pennant-winning Los Angeles Dodgers was second, and Colorado's Bud Black was third.
MLB – Speeding games on MLB agenda for next season
Major League Baseball is intent on shortening games next season.  The average time of a nine-inning game was a record 3 hours, 5 minutes this season, up from 2:56 in 2015. The postseason average was 3:29. Many owners and general managers want to cut down trips to the mound by catchers, whether the reason is changing signs, talking about pitch selection or giving a pitcher a breather during long plate appearances. Toronto Blue Jays president Mark Shapiro says "it's not just listening to our current fans, it's thinking about our future fans and the landscape we're competing on." MLB proposed three changes last offseason that the players' union didn't accept, and management can start them next year without player approval: restricting catchers to one trip to the mound per pitcher each inning; employing a 20-second pitch clock; and raising the bottom of the strike zone from just beneath the kneecap to its pre-1996 level _ at the top of the kneecap. Baseball commissioner Rob Manfred prefers reaching an agreement with the union.
AHL – American Hockey League
Yesterday
Grand Rapids Griffins 6, San Antonio Rampage 3
ECHL – East Coast Hockey League
Last Night
Toledo Walley 4, Indy Fuel 1
NBAGL – NBA 'G' League
Last Night
Lakeland Magic 96, Grand Rapids Drive 91
Tonight
Windy City Bulls at Delaware 87ers, 6:30 p.m.
MHSAA – High School Sports
Last Night
Girls Volleyball Quarterfinals
Class B at East Lansing
Lake Odessa-Lakewood 3, Niles 2 (25-17, 20-25, 21-25, 28-18, 15-13)