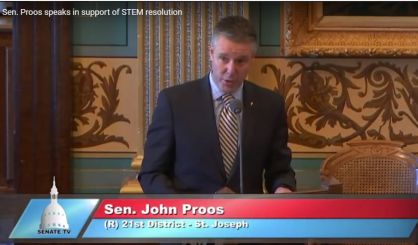 State Senator John Proos is calling for more opportunities for Michigan students to receive a STEM education. He took to the Senate floor last week as part of National STEM Day. He pointed to the expected demand over the next decade for workers trained in science, technology, engineering, and math right here in southwest Michigan.
"For example, our machine tool operators, the need for machine tool operators is expected to grow by 26.4% between the year 2014 and 2024, nurse practitioners by nearly 24%, software developers by nearly 21%."
Proos has introduced two bills designed to increase access to STEM careers in Michigan. One plan would require schools to provide students with the most recent available analysis of in-demand occupations for their local economic forecast region. The other would allow a student to receive a STEM certification as an incentive for taking additional STEM courses. Proos says the need for workers skilled in science, technology, engineering, and math will only grow in the years to come.