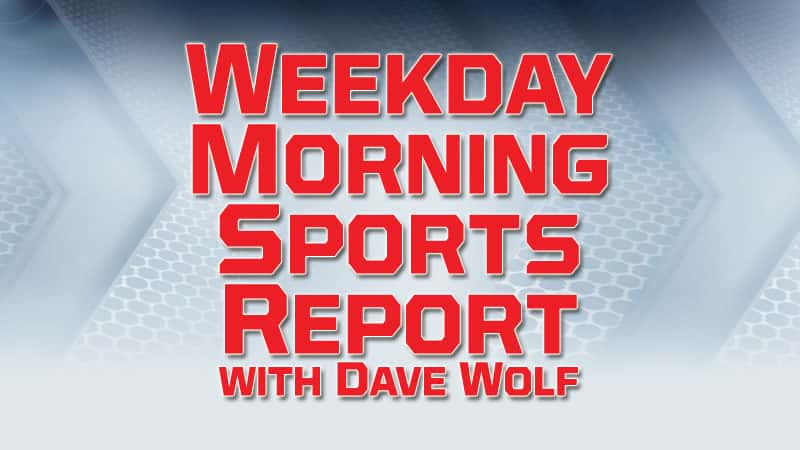 95.7 & 1400 WSJM Sports     @wsjmsports     wsjmsports.com     Monday, November 13, 2017
NFL – National Football League – Week 10
Yesterday
Detroit Lions 38, Cleveland Browns 24
Green Bay Packers 23, Chicago Bears 16
Pittsburgh Steelers 20, Indianapolis Colts 17
Other Scores
New Orleans 47, Buffalo 10
Tampa Bay 15, N.Y. Jets 10
Minnesota 38, Washington 30
Tennessee 24, Cincinnati 20
Jacksonville 20, L.A. Chargers 17, OT
L.A. Rams 33, Houston 7
Atlanta 27, Dallas 7
San Francisco 31, N.Y. Giants 21
New England 41, Denver 16
Lions 38, Browns 24 –Stafford helps Lions come back and beat Browns
Matthew Stafford lofted a 29-yard, tiebreaking touchdown to Eric Ebron early in the fourth quarter and the Detroit Lions went on to beat the winless Cleveland Browns 38-24 Sunday.  The Lions, now 5-4, rallied from first- and second-half deficits to earn consecutive victories for the first time since winning the first two games this season. The Browns, who fell to 0-9 on the season, led 10-0 early in the game for their first double-digit lead of the season, and were up 24-17 in the third after Deshone Kizer led two consecutive touchdown drives.  Detroit is the only franchise to have a 0-16 season in 2008. Detroit's Matthew Stafford bounced back from a slow start to connect on 17 of 26 passes for 249 with three TD passes in the second half.
Packers 23, Bears 16 – Packers win first game without Rodgers, beat Bears 23-16
The Green Bay Packers finally found a way to win without the injured Aaron Rodgers.  Starting his third game for Rodgers, Brett Hundley threw for 212 yards and a touchdown and the Packers beat the Chicago Bears 23-16 to snap a three-game losing streak on Sunday.  Nick Perry had three sacks for Green Bay. Chicago's Mitchell Trubisky threw for a career-high 297 yards.  The Packers, now 5-4, beat the Bears for the eighth time in nine games.
Steelers 20, Colts 17 – Roethlisberger rallies Steelers to 20-17 win at Indianapolis
Ben Roethlisberger's 32-yard completion to Antonio Brown with 35 seconds set up a 33-yard field goal from Chris Boswell as time expired Sunday, giving Pittsburgh a 20-17 come-from-behind win at Indianapolis on Sunday. The Steelers, who are 7-2, have won four straight overall and five in a row in the series. But it sure wasn't easy as the Colts held Roethlisberger, Antonio Brown and Le'Veon Bell in check. Pittsburgh needed two second-half TD passes from Roethlisberger to fight its way out of a 17-3 third-quarter deficit. And Roethlisberger reverted to his traditional form on the Steelers' final possession. The two -time Super Bowl champion methodically marched the Steelers 70 yards in the final 3 minutes, 10 seconds to give Pittsburgh the lead. Roethlisberger was 19 of 31 for 236 yards with one interception. Bell had 26 carries for 80 yards and Brown, the league's leading receiver, caught three passes for 47 yards.
Tonight
Miami Dolphins at Carolina Panthers, 8:30 p.m. Joined in progress on WSJM Sports after U of M Basketball
NHL – National Hockey League
Last Night
New Jersey Devils 7, Chicago Blackhawks 5
Devils 7, Blackhawks 5 – Wood's hat trick helps Devils' rally to beat Blackhawks, 7-5
Miles Wood had a hat trick and New Jersey erased a three-goal deficit to beat Chicago 7-5.  The 22-year-old winger scored a pair of first-period goals and finished off his four-point night with his third goal early in the third period. A four-goal second period allowed the Devils to build a 6-4 lead. Taylor Hall's goal with 7:45 remaining in the period gave New Jersey its first lead of the night after the Devils entered the second trailing 4-2.  Brian Gibbons extended the lead to two goals with 2:55 remaining in the second. Chicago got within 6-5 when Patrick Kane scored on the power play with just 2.7 seconds remaining in the period.
NBA – National Basketball Association
Last Night
Detroit Pistons 112, Miami Heat 103
Houston Rockets 118, Indiana Pacers 95
Pistons 112, Heat 103 – Rookie Kennard sparks Pistons in 112-103 win over Heat
Tobias Harris scored 25 points and Avery Bradley added 24 points in the Detroit Pistons' 112-103 victory over the Miami Heat on Sunday. Reggie Jackson scored 17 points, rookie Luke Kennard had 14 and Andre Drummond added eight points and 17 rebounds for the Pistons. At 10-3, they are second behind Boston in the Eastern Conference and off to their best start since going 10-2 in 2005-06.  The Pistons used a 10-0 run midway through the fourth quarter to pull away. Hassan Whiteside had 20 points and 12 rebounds, and Dion Waiters added 16 points and five assists for Miami.
Rockets 118, Pacers 95 – James Harden, Rockets beat Pacers 118-95
James Harden had 26 points and 15 assists and the Houston Rockets beat the Indiana Pacers 118-95 on Sunday night. Indianapolis native Eric Gordon had 21 points for Houston, and Clint Capela had 20 points and 17 rebounds. Houston led by 23 in the game that was hardly contested by Indiana.  The Rockets overwhelmed the Pacers from the start, jumping out to a 13-2 lead. Houston continued to pile it on early and often, outscoring the Pacers 24-9 during the first 6 minutes. The lone bright spot of the game for the Pacers came in the second quarter when they managed to cut Houston's lead to 39-34. Victor Oladipo had 28 points, and Domantas Sabonis added 17 off the bench for Indiana, and Lance Stephenson had eight points and 10 assists.
NCAA Men's Basketball – College Basketball
Yesterday
Eastern Michigan 97, Michigan Dearborn 73
EMU 97, UM-D 73 – Thompson sets record; E. Michigan downs Mich-Dearborn 97-73
Junior James Thompson IV had his 41st career double with 14 points and 13 rebounds, and passed the legendary George "Ice Man" Gervin in double-doubles as Eastern Michigan beat NAIA Division II Michigan-Dearborn 97-73 on Sunday. Elijah Minnie led Eastern Michigan (2-0) in scoring with 27 points on 10-for-14 shooting, and Paul Jackson and Tim Bond each scored 15 points for the Eagles.
Today
Mount Saint Mary's at (14) Notre Dame, 7:00 p.m.
Central Michigan at Michigan, 7:00 p.m.                                      95.7 & 1400 WSJM Sports 6:30
Western Michigan at South Carolina, 8:00 p.m.
NCAA Women's Basketball – College Basketball
Yesterday
(24) Michigan 74, Liberty 50
Western Michigan 64, New Mexico State 55
(24) Michigan 74, Liberty 50 – No. 24 Michigan women beat Liberty 74-50
Katelynn Flaherty scored 20 points for her 51st career 20-plus game, Hallie Thome added 16 points and No. 24 Michigan beat Liberty 74-50 on Sunday in the second round of the preseason WNIT.   Thome battled foul trouble all game but made 7 of 8 shots. Flaherty was 4-of-14 shooting but made all 10 of her free throws and had five assists. Nicole Munger made three 3-pointers and scored 13 points for Michigan (2-0). Hailey Brown had her first double-digit scoring game of her career with 10 points and six rebounds. Akienreh Johnson, who was injured last season, scored her first points since Dec. 17, 2016. She finished with four points. Keyen Green had 12 points and eight rebound for Liberty (1-1), which shot just 34 percent. The Flamers were just 4 of 20 from distance.
Tonight
Rochester College at Eastern Michigan, 7:00 p.m.
Oakland University at Michigan State, 7:00 p.m.
NCAA Football – Miami jumps to No. 2 behind Alabama; Oklahoma 3rd
Miami Hurricanes football players have spent much of their recent postgame news conferences complaining about a lack of respect and recognition. They got some on Sunday, ascending to second in The Associated Press poll after blowing out previous No. 3 Notre Dame. The 9-0 Hurricanes climbed five spots in the poll and are one of just four unbeaten teams in the top 25. They also picked up four first-place votes, while No. 1 Alabama claimed the other 57.  The Crimson Tide are 10-0 following Saturday's fourth-quarter rally against Mississippi State. Oklahoma moved up two spots to third and Clemson stayed fourth as they try to gain one of the four spots in the College Football Playoff semifinals.  Wisconsin is fifth, followed by Auburn, Georgia, Ohio State, Notre Dame and Oklahoma State. The Tigers climbed four places to sixth after beating the Bulldogs, who fell from second to seventh.
1 Alabama (57) 10-0
2 Miami (4) 9-0
3 Oklahoma 9-1
4 Clemson 9-1
5 Wisconsin 10-0
6 Auburn 8-2
7 Georgia 9-1
8 Ohio State 8-2
9 Notre Dame 8-2
10 Oklahoma State 8-2
11 TCU 8-2
12 USC 9-2
13 Penn State 8-2
14 UCF 9-0
15 Washington State 9-2
16 Washington 8-2
17 Mississippi State 7-3
18 Memphis 8-1
19 Michigan 8-2
20 Stanford 7-3
21 LSU 7-3
22 Michigan State 7-3
23 South Florida 8-1
24 West Virginia 7-3
25 NC State 7-3
NCAA Football – Butch Jones out as Tennessee's football coach
Butch Jones is now the former head football coach at Tennessee, dismissed with two games left in the regular season.  The move comes amid a 1-5 skid that includes Saturday's embarrassing 50-17 loss to Missouri. The Vols have fallen to 4-6 after being ranked in the AP preseason poll. Jones went 34-27 overall and 14-24 in the SEC over five seasons, leading the Vols to bowl victories each of the last three years.  Former Michigan coach Brady Hoke has been hired as the interim Head Coach.
NASCAR – Kenseth's win keeps Kezelowski in championship contention
Matt Kenseth and Brad Kezelowski were the big winners at Phoenix Raceway on Sunday.  Kenseth won for the first time this season in what might have been the second-to-last Cup race of his NASCAR career. He does not have a job lined up for next year and said he'll take a break at the start of the season. Kenseth passed Chase Elliott with 10 laps remaining, denying Elliott the final berth in next week's championship race. Had Elliott hung on for the win, he would have qualified for the championship finale at Homestead-Miami Speedway. Instead of Elliott, it will be Kezelowski competing with Martin Truex Jr., Kyle Busch and Kevin Harvick for the championship next Sunday at Homestead. Truex finished third at Phoenix, Harvick was fifth and Busch seventh.
Golf – Champions – Sutherland takes season title with victory in finale.
Kevin Sutherland had two reasons to celebrate after winning the Charles Schwab Cup Championship at Phoenix Country Club. Sutherland won for the first time in 78 starts on the PGA Tour Champions circuit. He also claimed the $1 million season title after entering the season finale ranked fifth in points. Sutherland closed a 5-under 66 for a one-stroke victory over Vijay Singh. Langer finished five shots back and missed a chance to win the season title for the fourth straight year despite winning the first two playoff events.
AHL – American Hockey League
Last Night
Milwaukee Admirals 3, Chicago Wolves 2
NBAGL – NBA "G" League
Last Night
Long Island Nets 93, Grand Rapids Drive 91