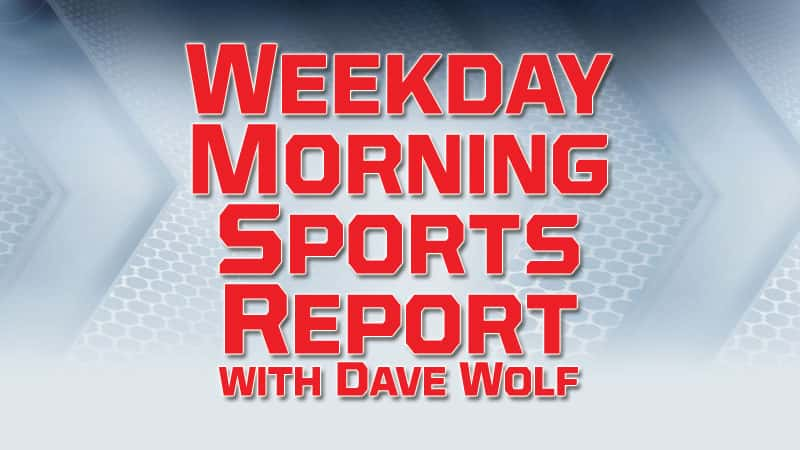 95.7 & 1400 WSJM Sports     @wsjmsports     wsjmsports.com     Friday, November 10, 2017
NFL – National Football League – Week 10
Last Night
Seattle Seahawks 22, Arizona Cardinals 16
Seahawks 22, Cardinals 16 – Wilson throws 2 TD passes, Seahawks win again in Arizona
Russell Wilson threw two touchdown passes to Jimmy Graham and the Seattle Seahawks added to their history of success in Arizona with a 22-16 victory over the Cardinals on Thursday night. The Seahawks (6-3) limited Adrian Peterson to 29 yards in 21 carries in a game marred by a host of injuries and penalties, most of them against Seattle, to improve to 4-0-1 in Arizona in Bruce Arians' five seasons as coach of the Cardinals (4-5). Seattle's Kam Chancellor forced a fumble by Peterson on Arizona's first offensive play and later tackled him in the end zone for a safety. At least seven players left the game with injuries, including Seattle cornerback Richard Sherman, who will miss the rest of the season with a torn Achilles.
NFL – Detroit's Lang going through concussion protocol
Detroit coach Jim Caldwell says guard T.J. Lang is going through the concussion protocol. Lang played in Monday's win at Green Bay. Caldwell said Thursday that Lang was having no issues until the start of practice Wednesday. He began feeling ill and was taken out of practice.
NFL – Cowboys' Elliott loses appeal; ineligible to play Sunday
Dallas Cowboys running back Ezekiel Elliott has run out of reprieves. He failed in his bid to keep a six-game suspension over alleged domestic violence on hold. A federal appeals court in New York City has denied the injunction. The 2nd U.S. Circuit Court of Appeals ruled today that Elliott didn't meet the standards to continue blocking the suspension but ordered a hearing as soon as it could be scheduled. He won't play Sunday against Atlanta.
Sunday
Cleveland Browns at Detroit Lions, 1:00 p.m.                              WSJM Sports/Cosy-FM 11:00
Green Bay Packers at Chicago Bears, 1:00 p.m.
Pittsburgh Steelers at Indianapolis Colts, 1:00 p.m.
New England Patriots at Denver Broncos, 8:30 p.m.                    95.7 & 1400 WSJM Sports 7:30
NHL – National Hockey League
Last Night
Philadelphia Flyers 3, Chicago Blackhawks 1
Calgary Flames 6, Detroit Red Wings 3
Flyers 6, Blackhawks 3 – Giroux, Voracek lead Flyers to 3-1 win over Blackhawks
Claude Giroux and Jakub Voracek each had a goal and two assists to lead the Philadelphia Flyers over the Chicago Blackhawks 3-1 on Thursday night.  Brian Elliott made 38 saves and Sean Couturier also scored for the Flyers, who avenged last Wednesday's 3-0 loss at Chicago while beating the Blackhawks for the 14th straight time in Philadelphia during the regular season.  Chicago's last regular-season victory at Philadelphia came on Nov. 9, 1996. The Blackhawks did clinch their 2010 Stanley Cup title with a Game 6 win on the Flyers' home ice.  Connor Murphy scored for the Blackhawks.  Corey Crawford stopped 28 shots.
Flames 6, Red Wings 3 – Jagr scores first goal for Flames in 6-3 win over Red Wings
Jaromir Jagr scored his first goal for the Flames and added an assist to lead Calgary to a 6-3 victory over the Detroit Red Wings on Thursday night.  After Jagr's rebound resulted in Mark Jankowski's first NHL goal to open the scoring 9:15 into the first period, the future Hall-of-Famer showed the type of finish around the net that has got him 766 career goals, second only to Wayne Gretzky.  It was Jagr's first two-point game with the Flames, who signed the 45-year-old as a free agent on Oct. 4. Jagr was playing in his second-straight game after missing six with a groin injury. He has four points in seven games this season. Gaudreau scored a pair of goals, including an empty netter, Micheal Ferland and Matthew Tkachuk also tallied for Calgary (9-7-0). The Flames have won four of their last five. Gaudreau's three-point night extends his point-streak to six games.  Martin Frk, Frans Nielsen and Anthony Mantha had goals for Detroit (8-8-1).
NBA – National Basketball Association
Tonight
Atlanta Hawks at Detroit Pistons, 7:00 p.m.
Indiana Pacers at Chicago Bulls, 8:00 p.m.
NBA – AP source: NBA to hold 2020 All-Star game in Chicago
A person familiar with the situation says the NBA will hold the 2020 All-Star game in Chicago.  The person spoke on the condition of anonymity because an official announcement has not been made. Yahoo! Sports first reported the news. Commissioner Adam Silver, Mayor Rahm Emanuel and team officials are scheduled to make the announcement in Chicago on Friday afternoon.  It will be the first time All-Star festivities are held in the city since 1988, when Michael Jordan dazzled the hometown crowd. "His Airness" took off from the foul line to beat out Dominique Wilkins in an epic slam dunk contest and was MVP in the All-Star game, scoring 40 to lead the East to a 138-133 victory over the West at Chicago Stadium.
NCAA Football – College Football – Mid American Conference
Saturday
(12) Michigan State at (13) Ohio State, 12:00 p.m.            Superhits 103.7 Cosy-FM 10:30
Michigan at Maryland, 3:30 p.m.                                         News/Talk 94.9 WSJM 2:30
(3) Notre Dame at (7) Miami, 8:00 p.m.
NCAA Men's Basketball – College Basketball
Today
Spring Arbor at Eastern Michigan, 10:30 a.m.
Siena Heights at Central Michigan, 4:00 p.m.
North Florida at (2) Michigan State, 8:00 p.m.                  Superhits 103.7 Cosy-FM 7:00
Saturday
Siena Heights at Western Michigan, 2:00 p.m.
(14) Notre Dame at DePaul, 4:00 p.m.
North Florida at Michigan, 7:30 p.m.                                 95.7 & 1400 WSJM Sports 7:00
MLB – Halladay to be remembered Tuesday at Phillies' spring home
A celebration of Roy Halladay's life will take place next Tuesday at Spectrum Field in Clearwater, Florida, the spring training home of the Philadelphia Phillies. The two-time Cy Young Award winner died this week at age 40 when the private plane he was piloting crashed into the Gulf of Mexico. Halladay pitched for Toronto from 1998-2008 and for Philadelphia from 2009-13, going 203-105.
NBAGL–NBA "G" League
Tonight
Grand Rapids at Westchester, 7 p.m.
AHL–American Hockey League
Tonight
Grand Rapids at Texas, 8:30 p.m.
ECHL–East Coast Hockey League
Tonight
Adirondack at Kalamazoo, 7:00 p.m.
Toledo at Wheeling, 7:05 p.m.
Fort Wayne at Utah, 9:05 p.m.
MHSAA – High School Sports
Last Night
Girls Volleyball – Regional Finals
Class B at Allegan
Niles 3, Edwardsburg 2
Tonight
Football – Regional Championship
Division 7
Saugatuck (8-3) at Cassopolis (10-1), 7:00 p.m.
Saturday
Football – Regional Championship
Division 4
Lansing Sexton (8-3) at Edwardsburg (9-1), 1:00 p.m.
Division 6
Jackson Lumen Christian (9-1) at Watervliet (11-0), 1:00 p.m.     98.3 The Coast 12:45