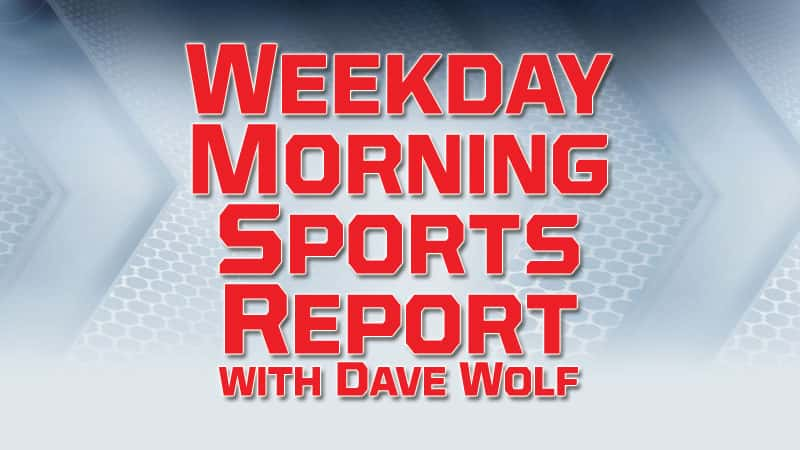 95.7 & 1400 WSJM Sports     @wsjmsports     wsjmsports.com     Thursday, November 09, 2017
NCAA Football – College Football – Mid American Conference
Last Night
Western Michigan 48, Kent State 20
Central Michigan 42, Eastern Michigan 30
Ohio 38, Toledo 10
WMU 48, Kent St. 20 – Western Michigan has 3 defensive TDs, tops Kent State 48-20
Darius Phillips had one of Western Michigan's three defensive touchdowns to extend his FBC record, and Jarvion Franklin ran for 191 yards and a touchdown in the Broncos' 48-20 victory over Kent State on Wednesday night.  Phillips made it 31-14 late in the first half with a 43-yard interception return, his FBS-record 12th touchdown on runbacks. He has scored on five kickoff returns, five interceptions, a punt return and a fumble return. Allen Rossum (Notre Dame, 1994-97) and Adoree' Jackson (USC, 2014-16) are second with nine each. Phillips had a 100-yard kickoff return called back in the first quarter.  Four rushers combined for 292 yards for Western Michigan (6-4, 4-2 Mid-American Conference), which is bowl eligible for a fourth straight season.
CMU 42, EMU 10 – Central Michigan has 5 interceptions, tops EMU 42-30
Shane Morris threw three touchdown passes in the first half, Sean Bunting had two of Central Michigan's five interceptions, and the Chippewas held off Eastern Michigan 42-30 on Wednesday night. Central Michigan was ahead 28-10 late in the second quarter, but the Chippewas' only first down of the second half came with 6:27 remaining in the game. EMU scored on back-to-back drives in the fourth to pull to 35-30. The Eagles punted on their next two possessions, but got the ball back at their 26 with 1:03 left. Two plays later, Amari Coleman sealed it with his eighth career interception, returning it for a 32-yard TD.  Jonathan Ward rushed for 159 yards and two touchdowns, including a career-long 79-yarder, for Central Michigan (6-4, 4-2 Mid-American Conference), which is bowl eligible for the 10th time in 12 years. Morris was 9-of-12 passing for 141 yards before halftime and finished with 155 yards on 11 completions.  Brogan Roback was 23 of 39 for 204 yards with two touchdowns and five interceptions for Eastern Michigan (3-7, 1-5).
NBA – National Basketball Association
Last Night
Detroit Pistons 114, Indiana Pacers 97
Pistons 114, Pacers 97 – Pistons stay sharp, top Pacers 114-97
Tobias Harris scored 23 points and the first-place Detroit Pistons won for the sixth time in seven games, beating the Indiana Pacers 114-97 on Wednesday night. Andre Drummond added 14 points and 21 rebounds for the Pistons, who lead Cleveland by three games in the Central Division. Indiana lost its fourth straight.  Victor Oladipo led the Pacers with 21 points, but Indiana has allowed at least 100 points in 10 of 12 games this season. The Pacers were without injured big man Domantas Sabonis.
NHL – National Hockey League
Tonight
Chicago Blackhawks at Philadelphia Flyers, 7:00 p.m.
Detroit Red Wings at Calgary Flames, 9:00 p.m.
MLB – Halladay was flying plane low, witnesses tell safety board
Witnesses to Roy Halladay's fatal plane crash have told federal investigators the two-time Cy Young Award winner was flying his tiny sport plane low over the Gulf of Mexico shortly before it slammed into the water.  National Transportation Safety Board Investigator Noreen Price said Wednesday that Halladay's ICON A5 experienced a "high-energy impact" with the water.  Price said it was too early to say whether Tuesday's crash was related to two earlier crashes this year of A5s, one of them that killed both the plane's chief designer and test pilot.
NFL – National Football League – Week 10
Tonight
Seattle Seahawks at Arizona Cardinals, 8:25 p.m.              95.7 & 1400 WSJM Sports 8:00
NFL – Davis complains about Colts' handling of injury situation
Indianapolis Colts cornerback Vontae Davis is upset he was demoted because of what the team called a non-injury related matter.  The two-time Pro Bowler says he has been limited by a lingering groin injury. Davis was hurt in the third preseason game at Pittsburgh and missed nearly a month before returning against Seattle on Oct. 1. Since then, even Davis acknowledges he hasn't played like his old self. So five days after being left home when the Colts traveled to Houston, Davis vented. He told reporters he was upset that defensive coordinator Ted Monachino told him of the demotion instead of head coach Chuck Pagano. And he said he felt disrespected. General manager Chris Ballard told a radio station Wednesday afternoon that he thought Davis was frustrated after not playing well for a couple of weeks.
NFL – AP source: Jones threatens Goodell deal after Elliott ban
Dallas Cowboys owner Jerry Jones is reportedly ready to fight a proposed contract extension for Commissioner Roger Goodell.  A person with knowledge of the situation says Jones told the six owners on the compensation committee he had hired high-profile attorney David Boies (boyz) and was prepared to sue if the group voted to extend Goodell's deal. Jones has since been embroiled in a dispute sparked by Goodell's six-game suspension of Cowboys running back Ezekiel Elliott over alleged domestic violence.  All 32 owners voted in May to extend Goodell's contract and authorized the compensation committee to work out the details.
NFL – NFL players union agrees to Veterans Day moment of silence
The NFL players union wants everyone in the league to honor a two-minute moment of silence on Sunday in observance of U.S. military veterans. Last year, President Barack Obama signed into law the Veterans Day Moment of Silence Act, which calls on all Americans to observe a two-minute moment of silence every Nov. 11. With Veterans Day falling on Saturday this year, the players union voted to ask everyone in the NFL community to observe this moment of silence Sunday prior to kickoffs.
NCAA Basketball – No. 2 Michigan State signs 5 players to hoops scholarships
No. 2 Michigan State has signed five recruits to scholarships. Grand Rapids Catholic Central's Marcus Bingham and Gabe Brown of Belleville, Michigan, are rated as top-100 basketball prospects by recruiting services. The 6-10 Bingham and 6-7 Brown may get a chance to play key roles next season because Michigan State will definitely be without centers Gavin Schilling and Ben Carter and may lose Miles Bridges, Jaren Jackson and Nick Ward as underclassmen to the NBA. Michigan State signed two players, Foster Loyer and Thomas Kithier, from Clarkston High School. The 6-foot Loyer was an Associated Press Class A All-State player last year and the 6-8 Henry was honorable mention. The Spartans signed only one out-of-state player: Aaron Henry, a 6-6 forward
from Indianapolis.
NCAA Basketball – 3 players reportedly involved in shoplifting incident
UCLA basketball coach Steve Alford says the three Bruins involved in a shoplifting incident in China won't play in Saturday's game against Georgia Tech in Shanghai. Pac-12 Conference Commissioner Larry Scott issued a statement Tuesday night saying that UCLA basketball players were "involved in a situation" in China, with police being summoned to the team's hotel to investigate the matter. The Los Angeles Times, citing a person close to the situation, reported that freshmen LiAngelo Ball, Cody Riley and Jalen Hill were involved in a shoplifting incident.
AHL – American Hockey League
Yesterday
Grand Rapids Griffins 7, San Antonio Rampage 4
Milwaukee Admirals 3, Chicago Wolves 0
MHSAA – High School Sports
Tonight
Girls Volleyball – Regional Finals
Class B at Allegan
Edwardsburg vs. Niles, 7:00 p.m.