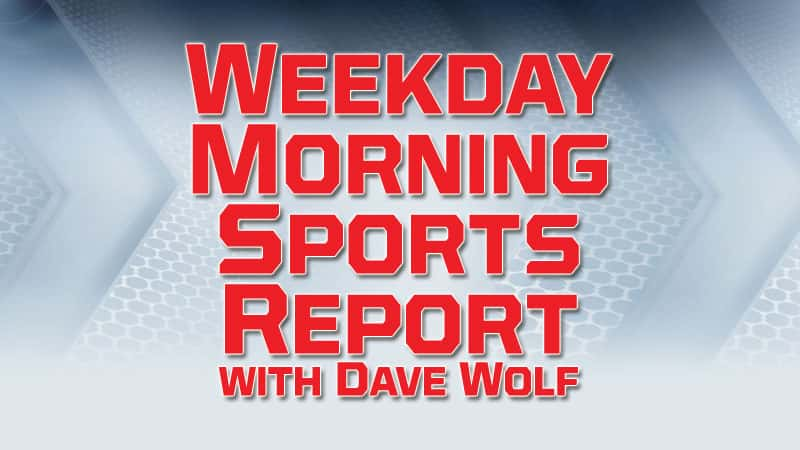 95.7 & 1400 WSJM Sports     @wsjmsports     wsjmsports.com     Tuesday, November 07, 2017
NFL – National Football League – Week 9
Last Night
Detroit Lions 30, Green Bay Packers 17
Lions 30, Packers 17 – Lions win 30-17 as QB Matthew Stafford dissects Packers
Matthew Stafford passed for 361 yards and two touchdowns to Marvin Jones, and the Detroit Lions snapped a three-game losing streak with a 30-17 win on Monday night over the offensively challenged Green Bay Packers.  Stafford was 26 of 33, including 12 of 14 in the first half with a 25-yard touchdown pass to Jones. Ameer Abdullah added a 4-yard touchdown run for Detroit
(4-4).  Green Bay (4-4) finally got in the end zone on Brett Hundley's 1-yard quarterback sneak with 9:52 left. The Lions answered with Stafford's 11-yard touchdown pass to Jones with 8:06 left to put the game out of reach with a 17-point lead. Jones had seven catches for 107 yards.   The Packers have lost three straight games.
NFL – Another hearing set over Cowboys RB Elliott's 6-game ban
The Dallas Cowboys will spend yet a few more days awaiting the fate of Ezekiel Elliott as the NFL and the players union continue what has now become a three-month court battle over his suspension.  A federal appeals court has scheduled a Thursday hearing as attorneys for the Dallas Cowboys running back seek a longer-lasting injunction to stop his six-game suspension over domestic violence allegations. Elliott was ordered in August to serve the suspension for violating the league's personal conduct policy, but he has received three reprieves through the legal system since then. The latest allowed Elliott to play Sunday against Kansas City as he ran for 93 yards and the go-ahead touchdown. It is possible, if not likely, that the three-judge panel could rule as early as Thursday, following oral arguments, on whether Elliott can play Sunday in Atlanta.
NHL – National Hockey League
Last Night
Detroit Red Wings 3, Vancouver Canucks 2
Red Wings 3, Canucks 2 – Tatar scores late in 3rd to lift Red Wings over Canucks 3-2
Tomas Tatar scored the tiebreaking goal late in the third period to lift the Detroit Red Wings over the Vancouver Canucks 3-2 on Monday night.  Martin Frk and Darren Helm also scored for Detroit, which has won four of five following a six-game losing streak. Jimmy Howard made 26 saves after Petr Mrazek's 36-save shutout in Edmonton the night before. Daniel Sedin and Michael Del Zotto scored for Vancouver, which completed a 2-2-1 homestand. Jacob Markstrom made 26 saves in his fourth straight start. Tatar scored the winner with 1:14 left shortly after a faceoff. A deflected puck went right to him and he made no mistake with a wrist shot over Markstrom's right shoulder for his 200th career point.
NBA – National Basketball Association
Tonight
New Orleans Pelicans at Indiana Pacers, 7 p.m.
Chicago Bulls at Toronto Raptors, 7:30 p.m.
NCAA Football – Harbaugh says Speight cleared to throw, not for contact
Michigan coach Jim Harbaugh says injured quarterback Wilton Speight is making good progress in his recovery from cracks in his vertebrae that have kept him out since late September. Harbaugh said Monday that Speight has been cleared to do some throwing but hasn't been cleared for contact. The Michigan coach said of Speight's recovery: "I think some of the doctors are a bit stunned that it's so far along." Speight was Michigan's starter until his injury. John O'Korn replaced him , but now the Wolverines have turned to Brandon Peters at quarterback. No. 21 Michigan plays at Maryland on Saturday. Harbaugh was noncommittal about who would start at quarterback if Speight is able to come back and play this season.
MLB – Cubs extend qualifying offers to Arrieta, Davis
The Chicago Cubs have extended qualifying offers to pitchers Jake Arrieta and Wade Davis, ensuring they will receive draft pick compensation if they sign with another team. Chicago also claimed right-hander Cory Mazzoni off waivers from the San Diego Padres on Monday. Outfielder Leonys Martn was assigned to Triple-A Iowa, and the Cubs also selected pitcher Matt Carasiti's contract from their top farm club. Arrieta, who won the NL Cy Young Award in 2015, went 14-10 with a 3.53 ERA in 30 starts this year. Davis, who was acquired in a trade with Kansas City last December, had 32 saves last season and was an All-Star for the third straight year. Arrieta and Davis have until Nov. 16 to make a decision on the $17.4 million, one-year qualifying offer. Both players are expected to decline the proposal.
MLB – Garvey, Morris, John, Miller on 10-person Hall ballot
Former stars Steve Garvey, Jack Morris and Tommy John and longtime players' union chief Marvin Miller are among the 10 names on the ballot for a Hall of Fame election next month. The candidates were announced Monday. Results will be released on Dec. 10 at the baseball winter meetings in Lake Buena Vista, Florida. Don Mattingly, Dale Murphy, Dave Parker, Ted Simmons, Luis Tiant and Alan Trammell also are eligible on the Modern Baseball Era ballot, which recognizes those whose biggest contributions came from 1970-87. A 16-person committee will vote, and it takes 75 percent, 12 votes, for election. The committee members will be announced later. Garvey was a 10-time All-Star first baseman and Morris won 254 times, plus pitched a 10-inning shutout in Game 7 of the 1991 World Series for Minnesota. Tommy John won 288 games over 26 seasons, a career extended by the pioneering elbow surgery that bears his name.  Miller headed the players' union from 1966-82 and will be on the ballot for the seventh time. In 2008, four years before he died, he sent a letter to the Baseball Writers' Association of America saying he didn't want to be considered anymore.
NCAA Basketball – Michigan State's Bridges tops AP preseason All-America team
Michigan State's Miles Bridges headlines The Associated Press preseason All-America team. The 6-foot-7 sophomore was the leading vote-getter with 61 votes from the 65-member national media panel that selects the weekly AP Top 25 poll. That was 14 more than Notre Dame senior Bonzie Colson, the preseason Atlantic Coast Conference player of the year and the No. 2 vote-getter. Arizona junior Allonzo Trier received 39 votes, Villanova junior Jalen Brunson received 33 and Missouri freshman Michael Porter Jr. had 30 votes to round out the rest of the five-man team released Monday. Porter is the fifth freshman to make the team, the first since LSU's Ben Simmons two seasons ago. North Carolina senior Joel Berry II, last year's Most Outstanding Player at the Final Four, fell short of the team with 25 votes.
MHSAA – High School Sports
Today
Girls Volleyball – Regional Semifinals
Class B at Allegan
Edwardsburg vs. Wayland, 5:30 p.m.
Niles vs. Hamilton, 7:00 p.m.
Class C at Watervliet
Schoolcraft vs. Kalamazoo Christian, 6:00 p.m.
Brandywine vs. Bronson, 7:45 p.m.
Class D at Climax-Scotts
Wyoming Potter's House Christian vs. Climax-Scotts, 5:30 p.m.
Michigan Lutheran vs. Battle Creek St. Philip, 7:00 p.m.
Class A at St. John's
Gull Lake vs. Okemos, 5:00 p.m.
Mattawan vs. DeWitt, 7:00 p.m.