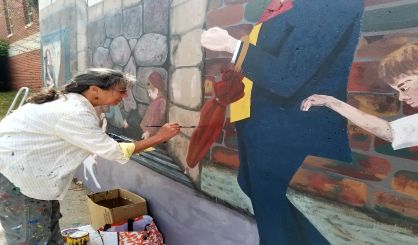 A new work of public art is going to be celebrated this weekend in Dowagiac. The city will dedicate a 67 foot mural along Pennsylvania Avenue that remembers the Orphan Train. The Orphan Train was a network set up in the 1800s to find homes throughout the west for New York orphans. Many of those orphans wound up in Dowagiac. Mural artist Ruth Andrews tells WSJM News the mural is in the form of three panels. The first shows the orphans' rough life in New York. The second is a little more hopeful.
"We see them preparing for the journey, and we can see the looks on their faces and how they were feeling a lot of different things," Andrews said. "They were certainly hopeful and excited, but they were also anxious, wistful, wondering."
The third panel shows the kids finding homes. Andrews tells us she worked on the mural with volunteers all summer. She brought the idea to the city thinking it could celebrate history while beautifying an otherwise ordinary wall. The dedication is 1 p.m. Saturday.