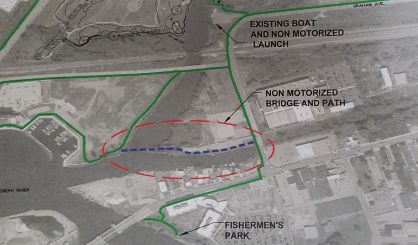 A decision this week from the Michigan Strategic Fund Board to award a $1.2 million grant to Cornerstone Alliance for the construction of a pedestrian bridge over the Paw Paw River between Benton Harbor and St. Joseph is being praised by state Representative Kim LaSata. She spoke in favor of the project at the board's meeting this week.
"What's great is it being a pedestrian bridge, employees on their lunch hours can walk on this bridge, or people from the Inn at Harbor Shores can walk on the bridge into Benton Harbor," LaSata told WSJM News.
The new concrete and steel bridge will go from the Harbor Village neighborhood to St. Joseph. Harbor Shores and Cornerstone Alliance hope to have it finished in time for the next Senior PGA Championship.