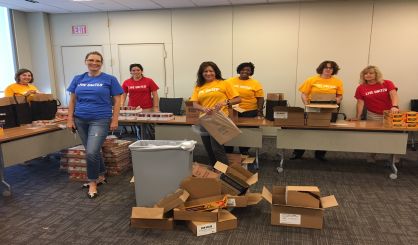 Whirlpool volunteers and the United Way of Southwest Michigan are working together to make sure local seniors are ready for the winter. The United Way's Julee Laurent tells WSJM News the volunteers put together packages for the seniors on Wednesday at the company's Riverview campus.
"We had 25 Whirlpool volunteers at the Riverview campus packing senior emergency food kits which will be used this winter," Laurent said. "Those food kits will be given to seniors in the fall so if inclement weather hits, they'll have a two day supply of food on hand."
Laurent tells us the food packages are filled with shelf stable items that can be kept around for a while. With the 250 packages put together Wednesday, and another 250 put together about a month ago, the United Way now has enough of them to service 500 of Berrien County's home-bound seniors this winter.