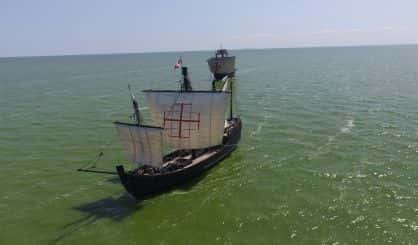 The Nina and the Pinta are now docked at the Michigan Maritime Museum in South Haven. At least, replicas are. WSJM News caught up with Kat, a crew member. She sailed into South Haven from Muskegon Wednesday and told us a bit about the vessels. For example, aboard the Nina, Kat told us the replicas are almost the size of the real ships Christopher Columbus sailed in 1492.
"This ship is to scale," Kat said. "The other ship, the Pinta, she is actually about 20% large because, actually, so are we."
Kat and other crew members sail around in the Nina and Pinta to teach folks about history. The two ships were built by the Columbus Foundation to match the real Columbus ship in as many ways as they could. The differences are mostly for crew comfort and to obey Coast Guard regulations. The Nina and Pinta will be at the Michigan Maritime Museum through Monday, and you can go and tour them. It's $15 to get in.