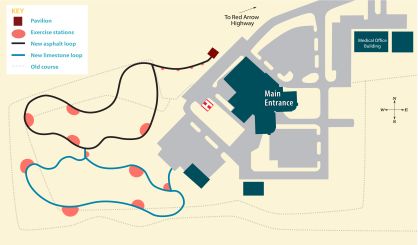 Some renovations are planned for the Watervliet Parcourse. That's a 1.1 mile track located behind Lakeland Hospital, Watervliet that's been open to the public for the past 30 years. The track is worn, and so Lakeland's Regina Ciaravino tells WSJM News they're raising $125,000 to redo it. The renovated track will be different.
"It will be two quarter mile tracks," Ciaravino said. "One will be limestone for those that are runners and walkers, someone that prefers a softer landing. The other track will be asphalt for those individuals who may have wheelchairs or walkers."
The Watervliet Community Hospital Foundation has already raised most of the money. The plan is to start work next year and be finished in 2020. If you want to contribute, you can go right here.