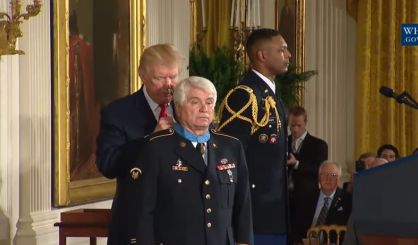 Medal of Honor recipient and South Haven resident Jim McCloughan is back in southwest Michigan for now after a whirlwind week. He went to the White House last Monday and was given the medal by President Donald Trump for his efforts as a Vietnam medic. 
"Of course, it's surreal," McCloughan told WSJM News. "It's something that you never think was going to be attached to your name or was going to happen to you. It's a wonderful feeling too. It's a wonderful feeling for all of those who were there with me."
McCloughan met President Trump and his daughter and tells us they were gracious. The president in an address described the two days in May of 1969 when McCloughan saved ten Americans and one Vietnamese soldier during a battle. The president told of how Jim prayed to God, asking he be allowed to go home and be a good citizen and son.
"A peace came over me that it was now in His ballpark and so if I was supposed to die in that battle, that's what would happen," McCloughan told WSJM. "If it wasn't then, I'd come back and try to fulfill my part of the bargain since He fulfilled His part."
Since getting back from Vietnam, McCloughan has coached dozens of area sports teams. 38 football teams, 22 wrestling teams, 38 baseball teams, and 20 Little League teams, among others. He tells us it was well worth it to shape young lives.
"They said to me when I retired, 'Do you realize how many lives you've touched?' and I said, 'Do you realize how many lives touched me? I'm the lucky guy. I stayed in one place, and they all came to me.'"
Now, McCloughan is going on a tour, advocating for veterans.
"I'm busier than a one-armed paperhanger right now," McCloughan said. "We're going to the Midwest, we're going to New York, we're going to Los Angeles, and then I'm going to Las Vegas."
That last one is a trip to see his son. McCloughan says he wants to try to change the public perception of Vietnam veterans.
"I hope that I can change the complexion of the Vietnam soldier because so many people look at them as the alcoholic, drugged, homeless individual, and really, my heart goes out to those that are in that particular situation," McCloughan said.
However, McCloughan tells us the vast majority of Vietnam soldiers came home and started families, bought houses, and held down jobs just like anyone else. Another goal of McCloughan's is to spread the word to all veterans that they should seek help if it is needed. He notes it took him years to be able to talk about everything he did in Vietnam, even to his wife. It wasn't until 2011 that he saw a counselor.