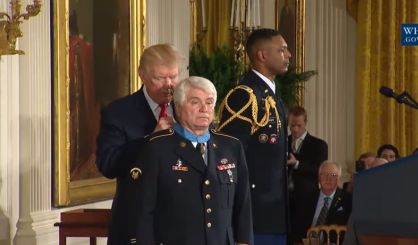 Medal of Honor recipient Jim McCloughan of South Haven is headed to Illinois to give the keynote speech at this year's Illinois State Fair Veterans and Gold Star Family Day. President Trump presented McCloughan with the Medal of Honor at the White House on July 31. The Army medic saved wounded soldiers during a Vietnam War battle despite his own serious wounds. He is the first Medal of Honor recipient under Trump.
The Illinois Department of Veterans Affairs says that the 71-year-old McCloughan will speak August 13 at 12 p.m. at the state fair. It will be his first speaking engagement in Illinois since receiving the honor. IDVA director Erica Jeffries says McCloughan will speak to Illinoisans who served in the same division with him in Vietnam.
The Associated Press contributed to this report.