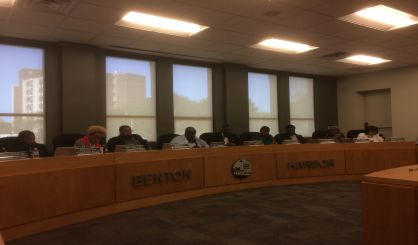 Medical marijuana dispensaries could be coming to Benton Harbor. The city commission voted Monday five to four to opt in to allowing the facilities. Mayor Marcus Muhammad was opposed, saying they would place a burden on police, questioning some of the unknowns when it comes to state law. He also had other reasons.
"The city is infested with liquor stores," Muhammad said. "The city is infested with guns. We're the only city in the state of Michigan that does not have a grocery store within the city limits. No laundromat. There are so many other things that this community needs besides medical marijuana dispensaries. We don't need that."
Commissioners heard from some members of the public in favor of allowing medical marijuana access locally. They included football star Joique Bell, who spoke of his sister's struggles with kidney cancer. The resolution approved by the commission states it will "adopt an ordinance to to authorize the location of any medical marijuana facilities within the City of Benton Harbor as provided by the Medical Marijuana Facilities Licensing Act," although how this will work is not yet known. Joining Mayor Muhammad in voting no were Mayor Pro Tem Duane Seats, and Commissioners Sharon Henderson and Ruthie Haralson.