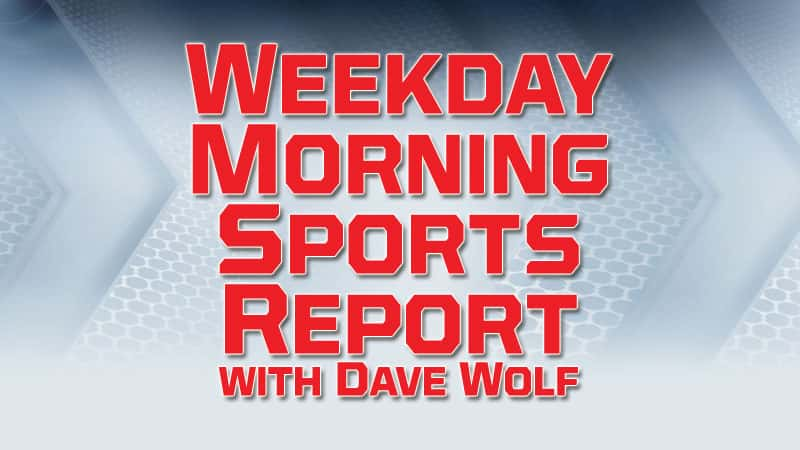 95.7 & 1400 WSJM Sports     @wsjmsports     wsjmsports.com     Friday, July 28, 2017
MLB – Major League Baseball
Yesterday
Chicago Cubs 6, Chicago White Sox 3
Tigers were off
Cubs 6, White Sox 3 – Cubs claim Crosstown Cup with 6-3 victory over White Sox
Kyle Schwarber homered twice and drove in four runs, and the rolling Chicago Cubs beat the Chicago White Sox 6-3 on Thursday night for their third consecutive victory.  Anthony Rizzo also connected and Jon Lester pitched seven effective innings as the Cubs improved to 11-2 since the All-Star break. The NL Central leaders also increased their advantage over the second-place Brewers to 1 ½ games ahead of their big series this weekend in Milwaukee.  Lester (8-6) allowed two runs and four hits in his third straight win since he got just two outs in the shortest start of his career July 9 against Pittsburgh. The starting pitchers for the Cubs are 10-0 with a 2.50 ERA in the last 13 games. Jose Abreu homered twice and Willy Garcia also went deep for the lowly White Sox, who have lost seven in a row at home for the first time since 2011 and 12 of 13 overall. Mike Pelfrey (3-8) was tagged for five runs and six hits in five-plus innings. After winning 3-1 at Wrigley Field on Monday, the White Sox dropped three in a row by a combined score of 21-8. The Cubs won the season series for the first time since they went 4-0 against the White Sox in 2013.
Tonight
Houston (Keuchel 9-0) at Detroit (Zimmermann 6-8), 7:10 p.m.              WSJM Sports/Cosy-FM 6:45
Cleveland (Salazar 3-5) at Chicago White Sox (Holland 5-9), 8:10 p.m.
Chicago Cubs (Quintana 6-8) at Milwaukee (Suter 1-1), 8:10 p.m.
MLB – Rays acquire LHP Dan Jennings from White Sox
The Tampa Bay Rays have acquired help for an inconsistent bullpen, obtaining left-handed reliever Dan Jennings from the Chicago White Sox for minor league first baseman Casey Gillaspie. Jennings was 3-1 with a 3.45 ERA in 48 appearances for the White Sox this season. He is expected to join the Rays in New York for the start of a four-game series Thursday night. Tampa Bay cleared room on the 40-man roster by designating right-handed reliever Diego Moreno  for assignment. A corresponding move to the 25-man roster will be announced before Thursday night's game. The Rays also say rookie right-hander Austin Pruitt has been added to the taxi squad. He will start Friday against the Yankees, filling in for injured right-hander Jake Odorizzi.
MLB – White Sox put outfielder Avisail Garcia on 10-day DL
The Chicago White Sox have placed All-Star outfielder Avisail Garcia on the 10-day disabled list with a sprained right thumb. The White Sox also promoted outfielder Willy Garcia and left-hander Aaron Bummer from Triple-A Charlotte before Thursday night's game against the Chicago Cubs. Bummer takes the roster spot of reliever Dan Jennings, who was traded to Tampa Bay for minor league first baseman Casey Gillaspie. Willy Garcia has a .259 batting average, one homer and 10 RBIs in 35 games with the White Sox this year. The 23-year-old Bummer, a 19th-round pick in the 2014 draft, is looking for his major league debut. He went 1-3 with a 2.84 ERA and three saves in 20 appearances for Double-A Birmingham and Charlotte this season.
NFL – No setbacks, but no timetable for Bridgewater
Teddy Bridgewater says he hasn't had any setbacks in his recovery from the massive injury to his left knee he suffered nearly a year ago in practice with the Minnesota Vikings. The fourth-year quarterback spoke to reporters Thursday for the first time since he was hurt, marking the first day of training camp for the full team. He said there's no doubt he'll return to game action, though the timetable remains uncertain.
NFL – Ravens considering Kaepernick
Baltimore is showing interest in signing Colin Kaepernick following a back injury to starting quarterback Joe Flacco. Ravens coach John Harbaugh says he's talked to Kaepernick throughout the summer and confirms the former San Francisco 49er is a quarterback who is being discussed, although a decision is all speculation right now. Flacco missed the first full practice of
training camp yesterday and is expected to be out at least one week.
NCAA Football – Hall of Fame coach returns home
Hall of Fame coach Ara Parseghian has returned to his home in Granger, Indiana, after spending more than a week in a nursing care facility because of an infection in his surgically repaired hip.  The 94-year-old former Notre Dame and Northwestern coach is still receiving 24-hour care, said Paul Flatley, who played for Parseghian at Northwestern from 1960-62. Flatley has been communicating via email with Parseghian's wife, Katie, and sharing updates on her husband's condition with former teammates. Ara Parseghian returned home Wednesday after being treated with intravenous antibiotics at a South Bend facility.  Parseghian coached Notre Dame for 11 seasons, winning national championships in 1966 and '73. He began his head coaching at career at Miami University, his alma mater, in 1951. He spent eight seasons at Northwestern.
NCAA Basketball – Wolverines Director of Basketball Operations steps down
Waleed Samaha is leaving his position as Michigan's director of basketball operations. The Wolverines hired him in 2016 after a long tenure as a basketball coach at Huron High School.
NCAA Basketball – 4 conferences sign on to basketball officiating alliance
Four more Division I conferences will join a men's basketball officiating alliance formed last year by the Atlantic Coast Conference, the Big East, the Atlantic 10 and Colonial Athletic Association. The Big South, the Ivy League, the Northeast and the Patriot League are joining ahead of the 2017-18 season, according to announcements from the leagues Thursday. The alliance launched last summer for conferences to work together on officiating matters and enhance training, development, recruitment, retention and feedback for officials. John Cahill, the Big East's supervisor of officials, and Bryan Kersey, the ACC's coordinator of men's basketball officiating, will continue to lead the alliance operations. ACC commissioner John Swofford says the new additions to the alliance "provide an even greater opportunity to build chemistry and quality" across the officiating ranks.
Golf – PGA – Logjam in Canada
There was a five-way tie for the lead when the first round of the PGA's Canadian Open was suspended because of darkness. Hudson Swafford, Brandon Hagy, Kevin Chappell, Matt Every and Ollie Schniederjans were in the clubhouse at 7-under 65 when play was stopped. Eleven others were at minus-6. Matt Kuchar fought dizzy spells while shooting a 1-under 71. The 39-year-old American became dizzy marking a ball and sought medical attention during the morning round at Glen Abbey.
Golf – Champions – Langer leads after first round
Bernhard Langer is the first-round leader at the Senior British Open at Royal Porthcawl.  The 59-year-old German star had five birdies and three bogeys for a one-stroke lead over 64-year-old Carl Mason and Mauricio Molina. Langer has nine senior major titles, winning the Regions Tradition and Senior PGA Championship in consecutive weeks in May.  Colin Montgomerie, Tom Lehman, Billy Mayfair and Tom Pernice Jr. are part of a fourth-place tie with Peter Lonard, Peter Fowler, Jean-Francois Remesy and Chris Williams.
Golf – LPGA – Hall of Famer Karrie Webb leads Ladies Scottish Open
Karrie Webb's 7-under 65 puts her atop the leaderboard through one round of the Ladies Scottish Open.  The LPGA Hall of Famer shot a 7-under 65 in cold and windy conditions to take a one-stroke edge over Cristie Kerr. Webb played the final 10 holes in 7 under at Dundonald Links, including five consecutive birdies and another on the final hole.
MWL – Midwest League Baseball
Last Night
West Michigan 4, Fort Wayne 2
Lansing 8, Dayton 7
Lake County 9, South Bend 7
Great Lakes 2, Bowling Green 1 – Game 1
Great Lakes 1, Bowling Green 0 – Game 2
Tonight
Fort Wayne at West Michigan, 7 p.m.
Bowling Green at Great Lakes, 7:05 p.m.
Dayton at Lansing, 7:05 p.m.
Lake County at South Bend, 7:35 p.m.