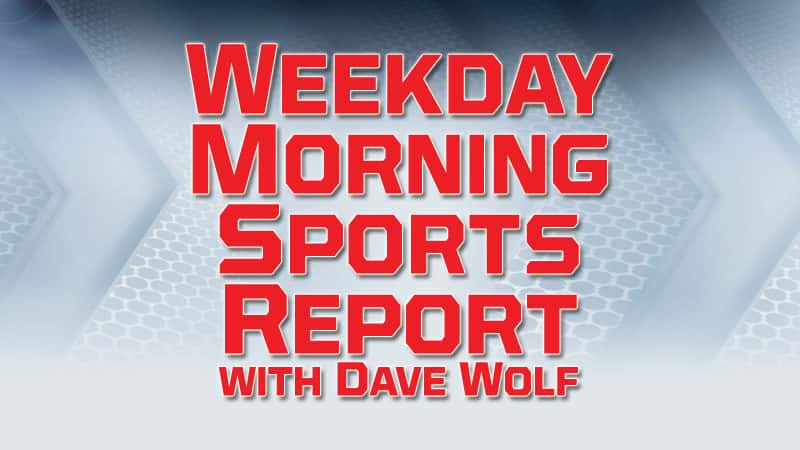 95.7 & 1400 WSJM Sports     @wsjmsports     wsjmsports.com     Thursday, July 27, 2017
MLB – Major League Baseball
Yesterday
Kansas City Royals 16, Detroit Tigers 2
Chicago Cubs 8, Chicago White Sox 3
Royals 16, Tigers 2 – Hosmer's 5 hits, slam help Royals top Tigers, win 8th in row
The Kansas City Royals extended their winning streak to eight games with a 16-2 rout of the Detroit Tigers on Wednesday night. Five of the eight wins have come against the Tigers, who they have outscored 40-10 in the last four games, including a 16-4 win on July 20. The winning streak is Kansas City's longest since a nine-game run from Aug. 14-23 last season. Detroit has lost six of eight as trade rumors swirl around several key players. Eric Hosmer matched a career high with five hits, including his first grand slam. He had six RBI and scored four runs. Hosmer entered with 117 homers but had not hit one with the bases loaded until he connected off Warwick Saupold in a nine-run seventh inning.  Bruce Rondon was ejected with one out in the ninth after hitting Mike Moustakas on the back with a pitch, which caused both benches to empty. Rondon declined to speak to the media after the game.  Utilityman Andrew Romine entered in his third big league pitching appearance and faced five batters, allowing a walk, RBI single, sacrifice fly, hit batter and fly out.
Cubs 8, White Sox 3 – Arrieta helps Cubs stay hot with 8-3 victory over White Sox
Jake Arrieta pitched two-hit ball into the seventh inning, and the Chicago Cubs beat the Chicago White Sox 8-3 on Wednesday night to move into first in the NL Central. After a disappointing start to the season, the Cubs (53-47) are roaring again. The reigning World Series champions moved a season-high six games over .500 and a half-game ahead of Milwaukee after trailing the Brewers by 5 ½ games just two weeks ago. Anthony Rizzo had three hits and four RBIs, helping the Cubs improve to 10-2 since the All-Star break. Addison Russell hit a solo homer in the ninth, and Kyle Schwarber, Ben Zobrist and Jon Jay each drove in a run. After finishing their series against the last-place White Sox on Thursday night, the Cubs visit Milwaukee for a three-game set this weekend.  Top prospect Yoan Moncada hit his first career homer and Alen Hanson also went deep, but the White Sox lost for the 11th time in 12 games. Third baseman Yolmer Sanchez committed a costly error and James Shields (2-3) lasted just four-plus innings.
Tonight
Chicago Cubs (Lester 7-6) at Chicago White Sox (Pelfrey 3-7), 8:10 p.m.
Tigers are off
MLB – Cubs designate LHP Brett Anderson for assignment
The Chicago Cubs have cut left-hander Brett Anderson.  The 29-year-old Anderson had been sidelined by a lower back strain. He was activated from the 60-day disabled list before Wednesday night's game against the White Sox and then designated for assignment. Anderson signed a $3.5 million, one-year contract with the Cubs over the winter. He went 2-2 with an 8.18 ERA in six starts. Anderson, who has been hampered by injuries throughout his career, is 40-45 with a 3.99 ERA in 133 games with the Athletics, Rockies, Dodgers and Cubs.
MLB – White Sox OF Avisail Garcia sidelined by right thumb injury
White Sox outfielder Avisail Garcia has a right thumb injury that will sideline the All-Star slugger for a couple weeks. Garcia complained of continued discomfort in his thumb after the White Sox lost 7-2 to the Cubs on Tuesday. He got an MRI on Wednesday that revealed a strained ligament.  The 26-year-old Garcia has been one of Chicago's bright spots during a difficult season. He is batting .303 with 13 homers and 54 RBIs in 88 games. Alen Hanson got the start in right field Wednesday night against the Cubs. White Sox manager Rick Renteria said he isn't sure exactly how he will fill the position while Garcia is sidelined.
MLB – Brewers make trade with White Sox for reliever Swarzak
The Milwaukee Brewers have acquired reliever Anthony Swarzak in a trade with the Chicago White Sox. The 31-year-old Swarzak is 4-3 with a career-low 2.23 ERA in 41 games this year. The right-hander got four outs for his first career save in Chicago's 3-1 victory over the Chicago Cubs on Monday. The Brewers are fighting with the Cubs for the NL Central lead.
NCAA – MAC, Pac-12 aim for shorter games
The Mid-American Conference wants shorter football games. The average game in the conference is 3 hours and 25 minutes, a minute longer than the national NCAA average. MAC Commissioner Jon Steinbrecher said Wednesday the aim this season is for games to come in at an average of 3:20. Steinbrecher said conference officials are studying ways to get a handle on games that have been drawn out by more passing and scoring, penalty administration, TV timeouts and other factors.   There will be greater emphasis on restarting games after halftime, and referees will work on getting the ball ready for play more quickly and efficiently after each play. The conference also plans to experiment with in-stadium clocks to let fans know how much time remains in TV timeouts. The Pac-12 is also taking steps to reduce the length of their football games. Pac-12 Commissioner Larry Scott has announced plans to shorten halftime and reduce the number of commercial breaks during non-conference games this season. Halftime will be 15 minutes long instead of 20, and the number of commercial breaks will be reduced and they will be shorter in length.
NCAA – Outcry grows over Virginia Tech's plan to honor Michael Vick
Public opposition is growing against the planned induction of former football star Michael Vick into the Virginia Tech Sports Hall of Fame. The Roanoke Times reports that two online petitions at change.org had received more than 90,000 combined signatures against the September induction. The Virginia-Maryland College of Veterinary Medicine has also announced its opposition. The university in Blacksburg has continued to defend its recent decision, noting that some believe Vick is the greatest athlete in school history. Vick served 19 months in federal prison on 2007 dogfighting convictions. He was a top contender for the 1999 Heisman Trophy after leading the Hokies through an undefeated regular season and to a spot in the national championship game. He went on to play professionally for the Atlanta Falcons and Philadelphia Eagles.
NCAA Football – Can Western repeat without Fleck?
The planets aligned for long-suffering Western Michigan last season as the Broncos earned their first Mid-American Conference Championship since 1988. The question now is whether departed coach P.J. Fleck left enough talent in the cupboard for the Broncos to repeat as MAC West division champs. Toledo is loaded and will give Western Michigan a run, while Ohio and Miami (Ohio) are again expected to battle it out in the MAC East.
NCAA Football – No more two-a-days in college football
The traditional two-a-day football practices of yesteryear are a thing of the past. The NCAA approved a plan this year that prevents teams from holding multiple practices with contact in a single day. Officials are hoping the rule change reduces the head injuries that had become all too common this time of year.
CONCACAF – Soccer – Gold Cup Final
Last Night
United States 2, Jamaica 1
USA 2, JAM 1 – US beats Jamaica to take Gold Cup
The United States men's soccer team has earned its sixth CONCACAF Gold Cup title and first since 2013. Jordan Morris scored in the 88th minute to give the Americans a 2-1 win over Jamaica in the final at Santa Clara, Calif. Jozy Altidore's goal on a 28-yard free kick in the 45th minute opened the scoring, but the U.S. needed Morris' 14-foot blast to extend its unbeaten streak to 14 games under coach Bruce Arena.
WNBA – Women's National Basketball Association
Tonight
New York Liberty at Indiana Fever, 7:00 p.m.
Phoenix Mercury at Chicago Sky, 8:30 p.m.
MWL – Midwest League Baseball
Last Night
Fort Wayne 4, West Michigan 3, 11 innings
Bowling Green at Great Lakes, ppd.
Lansing 11, Dayton 7
South Bend 15, Lake County 2
Today
Bowling Green at Great Lakes, 6:05 p.m. (DH)
Fort Wayne at West Michigan, 7 p.m.
Dayton at Lansing, 7:05 p.m.
Lake County at South Bend, 7:05 p.m.