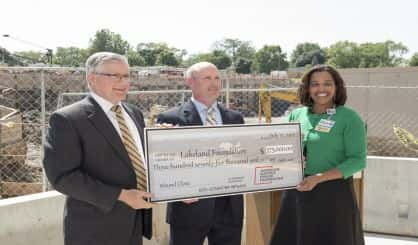 Indiana Michigan Power and its Cook nuclear power plant have announced a landmark donation to the Lakeland Medical Center Pavilion project. Lakeland CEO Loren Hamel tells WSJM News AEP and its foundation are giving $375,000 to the effort. Specifically, it's going to the pavilion's Wound Center and hyperbaric chamber.
"The hyperbaric part of that center puts the patient into a chamber at higher than normal oxygen pressures, and those extra oxygen pressures help heal wounds much faster," Hamel said.
Hamel tells us Lakeland is spending $160 million on a new pavilion, set to include a variety of its programs, plus some renovations. The five story pavilion is expected to be finished in 2020. So far, about $4.8 million in community support for the project has been announced by area organizations.