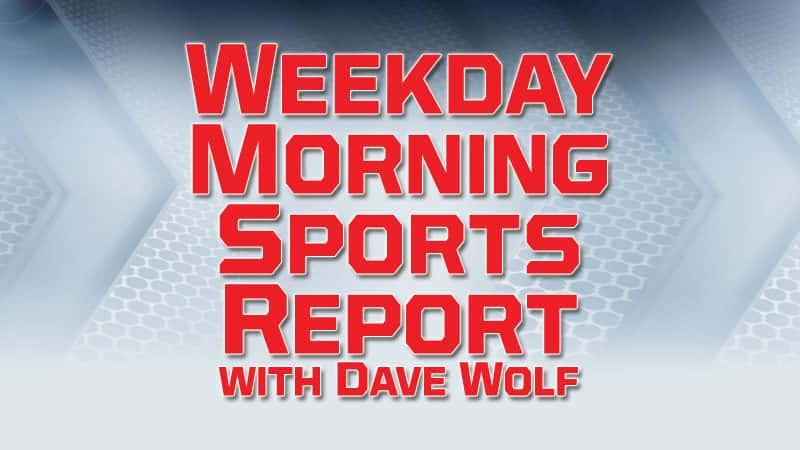 95.7 & 1400 WSJM Sports     @wsjmsports     wsjmsports.com     Thursday, July 13, 2017
WNBA – Women's National Basketball Association
Last Night
San Antonio Stars 79, Indiana Fever 72
Chicago Sky 90, Dallas Wings 84
Stars 79, Fever 72 – Stars top Fever 79-72 for 1st road victory
Kayla McBride scored 18 points, Erika de Souza had 14 points and seven rebounds, and San Antonio beat the Indiana Fever 79-72 on Wednesday for the Stars' first road victory.  San Antonio led by 12 points midway through the fourth quarter, but Briann January made a 3-pointer with 1:40 left to pull Indiana to 69-64. Dearica Hamby answered with a layup, and McBride made eight straight free throws to seal it.  Hamby added 13 points and rookie Kelsey Plum had career highs of 12 points, six rebounds and four assists for San Antonio (2-16). The Stars shot 10 more free throws than the Fever and held a 34-27 rebounding advantage.  De Souza and Hamby were a combined 13 of 14 from the field, and McBride made 12 of 13 free throws.  Candice Dupree scored 14 points for Indiana (7-10). January had 13 points and six assists.  
Sky 90, Wings 84 – Sky beat Wings 90-84 for 1st back-to-back victories
Allie Quigley made five 3-pointers and scored 22 points, Jessica Breland had 12 points and 12 rebounds, and the Chicago Sky beat the Dallas Wings 90-84 on Wednesday.  Keisha Hampton added four 3s and scored 12 points. Chicago was 12 of 25 from 3-point range. Stefanie Dolson added 13 points and nine rebounds for Chicago (5-12), which won back-to-back games for the first time this season. Courtney Vandersloot had 11 points and 12 assists, Tamera Young scored 10 points, and Cappie Pondexter did not play. Quigley scored 18 points in the first half to keep Chicago within 50-46 and Young opened the third-quarter scoring with a 3-pointer. Chicago outscored Dallas 32-13 in the third for a 78-63 lead.  Skylar Diggins-Smith led Dallas (9-11) with 20 points, and Allisha Gray added 18 points. They were just 12 of 30 from the field and the Wings shot 39 percent.
MLB – Midsummer Classic ratings barely surpass last year's record low
Television viewership for the All-Star Game ticked up slightly from last year's record low. The American League's 2-1, 10-inning win at Miami on Tuesday got a 5.5 national rating, 11 share and average audience of 9.28 million on Fox. Viewership was up 7 percent from last year's 4-2 AL win in San Diego, which received a 5.4 rating and 10 share on Fox, where its average audience was 8.71 million. The network said Wednesday that the combined average audience of 9.44 million on Fox, Fox Deportes and the online stream Fox Sports Go was up 7 percent from last year's 8.83 million. Fox experimented with interviews with Bryce Harper and George Springer while they were playing the outfield, spoke with hitters as they were about to bat and had former All-Star Alex Rodriguez walk onto the field near third base to conduct interviews.
Forbes says Cowboys most valuable sports team, worth $4.2B
The Dallas Cowboys are getting top billing on Forbes' latest ranking of the most valuable sports franchises. Forbes estimates the Cowboys' value at $4.2 billion, dwarfing the New York Yankees' runner-up status at $3.7 billion. The next three are all European soccer clubs: Manchester United, Barcelona and Real Madrid. The New England Patriots, New York Knicks, New York Giants, San Francisco 49ers and Los Angeles Lakers round out the top 10. Of those seven North American teams, four missed the playoffs this past season.  The average current value of the top most valuable teams is $2.5 billion, the highest to date. An increase of $300 million over last year.
NASCAR – Almirola ready to return this weekend after missing 2 months
NASCAR driver Aric Almirola plans to return to action this weekend at New Hampshire Motor Speedway after missing two months with a fractured vertebra. Almirola suffered an acute compression fracture during a fiery multi-car wreck May 13 at Kansas Speedway.
NASCAR – Larson crew chief punished for failed inspection
Kyle Larson will be without his crew chief for Sunday's Cup race at New Hampshire.  Chad Johnston has been suspended three races and fined $75,000 for failing post-race inspection at Kentucky. Larson's No. 42 Chevrolet was penalized for a rear brake cooling assembly that did not meet standards. His team also was penalized 35 points.
NBA – NBA Summer League
Last Night
Portland Trailblazers 88, Chicago Bulls 77
NBA – NBA to cut down on late TOs
The NBA Board of Governors has unanimously approved immediate changes that will potentially eliminate four time-outs per game, help speed up the final minutes and emphasize a timely resumption of play after halftime. Teams will be limited to two time-outs in the final three minutes of a game, instead of having up to three. All four quarters will have two mandatory time-outs, after the 7- and 3-minute marks.
NBA – Pistons lease to move downtown under NBA league review
The proposed lease agreement between the Detroit Pistons and Olympia Entertainment is being reviewed by the NBA's Board of Governors' advisory and finance committee.  The lease agreement would make the Pistons move to the new Little Caesars Arena official, if approved by the NBA's Board of Governors.   The committee will present their report during the next two weeks and the vote on the 35 year lease would be taken.  A simple majority of the NBA's 30 owners need to approve.   The lease agreement comes as a public watchdog group has filed lawsuits against the Detroit City Commission, Downtown Development Authority, and now includes the Pistons and the NBA to stop a $34.5 million bond that paid for modifications to the arena construction to allow the Pistons to move to the new arena as well.   
Tennis – Murray, Djokovic done at Wimbledon
The Wimbledon men's semifinals won't include the top two seeds. American Sam Querrey knocked out No. 1 Andy Murray, 3-6, 6-4, 6-7, 6-1, 6-1 on Wednesday to earn the right to meet seventh seed Marin Cilic on Friday. Third-seed Roger Federer will take on No. 11 Tomas Berdych, who advanced when second seed Novak Djokovic had to retire in the second set because of an arm injury.
Golf – Former champ Curtis out of British Open, Finau into field
Former champion Ben Curtis has pulled out of next week's British Open at Royal Birkdale and been replaced in the field by fellow American Tony Finau.  The Royal and Ancient has not given a reason for Curtis' withdrawal.
Golf – LPGA – England's Trish Johnson wins Senior LPGA at French Link
Trish Johnson completed a wire-to-wire victory Wednesday in the Senior LPGA Championship, closing with a 1-over 73 to beat Michelle Redman by three strokes in the first-year event. Johnson finished at 4-under 212 on French Lick Resort's Pete Dye Course and earned $90,000. The 51-year-old Englishwoman won the Legends Tour Championship last year at French Lick, beating Juli Inkster on the sixth hole of a playoff.  Johnson opened with rounds of 67 and 72 to take a three-stroke lead over Redman into the final round. The eight-time European Solheim Cup player won three times on the LPGA Tour and 19 times on the Ladies European Tour.  Redman also shot 73. Hall of Famer Laura Davies (68) tied for third at 1 over with Helen Alfredsson (69) and Wendy Doolan (71).
USA Soccer –  U.S. ekes out Gold Cup win
The United States is 1-0-1 in group play at the CONCACAF Gold Cup after barely knocking off a team that isn't a FIFA member. Jordan Morris snapped a 2-2 tie with his second goal of the game before the Americans held off Martinique, 3-2 in Tampa. The U.S. blew a 2-0 lead within a 10-minute span of the second half before Morris tallied in the 76th minute. The U.S. leads Group B with four points, ahead of Panama on goal differential. The Americans complete group play Saturday in Cleveland against Nicaragua.
MWL – Midwest League Baseball
Last Night
West Michigan 2, Cedar Rapids 0
Beloit 11, Lansing 1
Quad Cities 5, South Bend 2
Wisconsin 7, Great Lakes 2
Tonight
Cedar Rapids at West Michigan, 7 p.m.
Beloit at Lansing, 7:05 p.m.
Quad Cities at South Bend, 7:05 p.m.
Wisconsin at Great Lakes, 7:05 p.m.