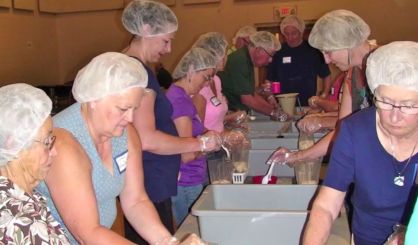 A southwest Michigan church is putting together meal packages for the hungry this Saturday, and it aims to assemble 80,000 of them. Community Church in Douglas has been doing this every year for the past eight years. It then hands off the packages to the Kids Coalition against Hunger. Organizer Dick Brunvand tells WSJM News the food goes all over the world.
"The majority of the meals will go to places like Haiti or places in Africa," Brunvand said. "Or, there might be a disaster area around this country where there's been a tornado or something like that, and they need some nutritious food very quickly. This will go in those areas as well."
Brunvand tells us they hope to have about 200 volunteers on hand, and they could use your help. Anyone who wants to lend a hand can show up to Community Church on Wiley Road — mailing address Fennville — at 10 a.m. Saturday. The event should take around 2 hours.