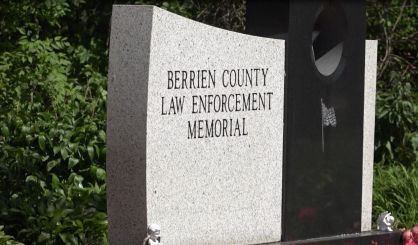 An annual event to honor fallen police officers from Berrien County has been held in St. Joseph. The Berrien County Police Officer Memorial Day Program took place Thursday at Lake Bluff Park. Berrien County Sheriff Paul Bailey told WSJM News he personally knew many of the officers whose names are on the law enforcement memorial plaque there.
"There's not a day that goes by that the people here in uniform and the families don't think about the ones that they've lost," Bailey said. "So, we pay tribute to them for their service to their county, for their service to their country."
Joseph Zangaro and Ronald Kienzle, two Berrien County Courthouse officers killed last summer, are now listed on the memorial. Their families were on hand for Thursday's event, along with a large crowd who heard Taps played and the National Anthem performed. A rifle guard was also on hand.